In the UK one in eight adults don't know how to ride a bike. In the US 6% of adults don't know how to ride a bike and in Israel while no one will go on the record, privately everyone knows someone who doesn't know how to ride.
That's why Elite Turkish Coffee decided to exposes one of adults' best kept secrets in a campaign designed to prove to them that it's never too late to enjoy life.
We all know the expression 'it's just like riding a bike', but for some of us it doesn't apply. For the past five years Elite Turkish Coffee, Israel's leading coffee brand, has sponsored Israel's biggest cycling event: "Sovev Turki". An annual affair that has cycling lovers, professionals and families alike, making the rounds of Tel Aviv by bike. But this year they decided to invite the unlikely of guests; the people who don't know how to ride a bike.
Some of you might raise a brow and think this is child's play but after speaking to quite a few people, BBR Saatchi & Saatchi were surprised to find out that many adults can't ride a bike – and worse than that, have entirely given up on the dream of learning how to. So they decided to do something about it.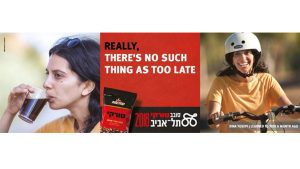 October and the High Holiday season in Israel is a time when families and kids spend a lot of time outdoors. In fact, while Yom Kippur for adults is all about fasting, for kids it's "Bike Holiday". Why? Because there are no cars on the road and so they can ride distances freely with no fear of accidents. And they do. All day long!
Unfortunately, the same cannot be said for adults. That's why in anticipation of Elite Coffee's "Sovev Turki" annual event taking place in October, BBR Saatchi & Saatchi decided to give adults a second shot at learning how to ride a bike. Collaborating with the Association of IDF Casualties, the agency invited people to sign up for one-on-one classes and taught them how to ride!
To get the news out to the public, Elite Turkish Coffee invited some of them to share their story ahead of time. But it didn't end there! They used their YouTube channel to reach out to adults who wouldn't admit that they can't ride a bike and posted videos explaining techniques on how to do so. And for those who were confident enough to admit they couldn't ride a bike – two days before the event, BBR Saatchi & Saatchi opened a Café Turki riding facility where qualified instructors taught more than 130 adults how to bike.
As a result of our campaign, the Tel Aviv town hall created a new riding path for beginner riders; allowing them to participate in the biking event. Because there's no such thing as 'too late' to enjoy.
Source: BBR Saatchi & Saatchi