This year, eBay UK hijacked the biggest cultural commerce event of the year; football's January Transfer Window. Sunday League teams across the country were given the chance to sign football legends Roberto Carlos and Eni Aluko for a once-in-a-life-time match with eBay's DREAM TRANSFER, all designed to showcase eBay's community ethos of being the 'people's marketplace'.
The campaign was led by creative agency McCann London alongside Communications agency Weber Shandwick and media agency MediaCom, working with media partners including Sky Sports and Joe Media and youth charity Football Beyond Borders. The fame driving campaign led to over 770 editorial features, including 20 TV placements and 64 pieces of coverage across UK national publications. The campaign also reached 72 million impressions through paid social and brand sentiment on eBay's channels rose 50%.
The campaign took the January Transfer Window, a typically exclusive, cultural moment reserved for football's elite – and opened it up to anyone and everyone, through one-game Sunday League contracts, openly listed on eBay for just a fiver, with all proceeds going to Football Beyond Borders.
As Sunday League took over the Transfer Window, two teams emerged victorious, with Aluko signing to Pevensey & Westham Ladies in Eastbourne and Carlos signing to Bull in the Barne United – a pub team in Shrewsbury. The lucky teams became the talk of the town (and beyond) when they welcomed the legends to their grounds.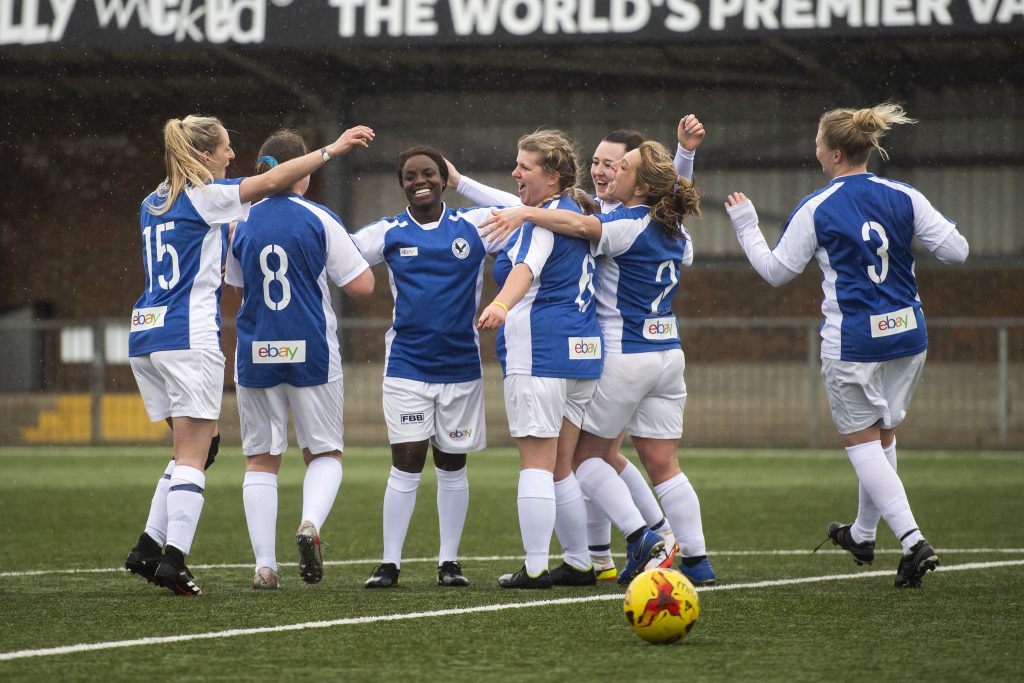 All the muddy drama of the games was brought together in a documentary-style film directed by Glenn Kitson. From the action on the pitch to the joy these legends brought to the locals, Glenn's film beautifully captures the positive energy and community that surrounded each game. Both Carlos and Eni proved their legendary status on and off the pitch, undeterred by the brutal British weather. Ever wondered what a World Cup winner looks like on a waterlogged, sloped, bumpy pitch in the heart of Shropshire? Well, wonder no more…
Jack Stoten and Connor Wynn, Creatives at McCann London, said: "It was a real privilege to shine a light on the brilliance of Sunday League and the great community spirit that surrounds it. Bringing eBay's democratic ethos to a moment as iconic as the Transfer Window and watching it unfold on the pitch was incredible – and truly showed the power of the people that prop up the beautiful game's wet, muddy and slightly lopsided grassy roots."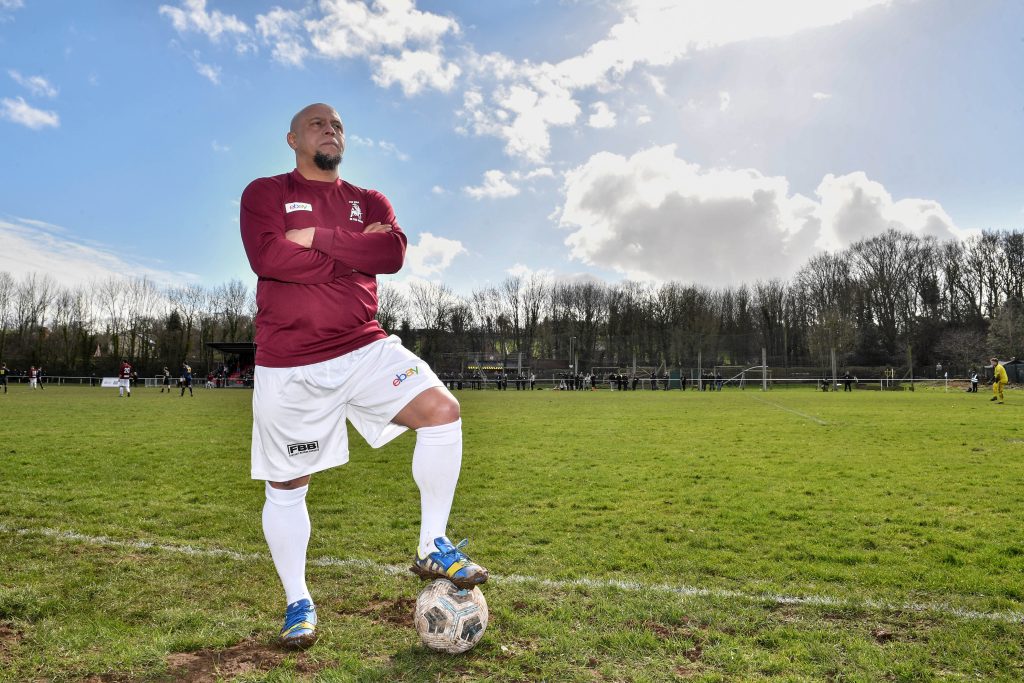 Eve Williams, Chief Marketing Officer at eBay UK, said: "The Dream Transfer has been a tribute to one of the UK's biggest collective passions – football – and the fantastic work of our charity partner Football Beyond Borders to help young people reach their full potential through sport. Bringing communities together around a shared passion is what eBay's marketplace is all about, and it's been brilliant to bring this to life for the players and fans of Pevensey & Westham and Bull in the Barne FC."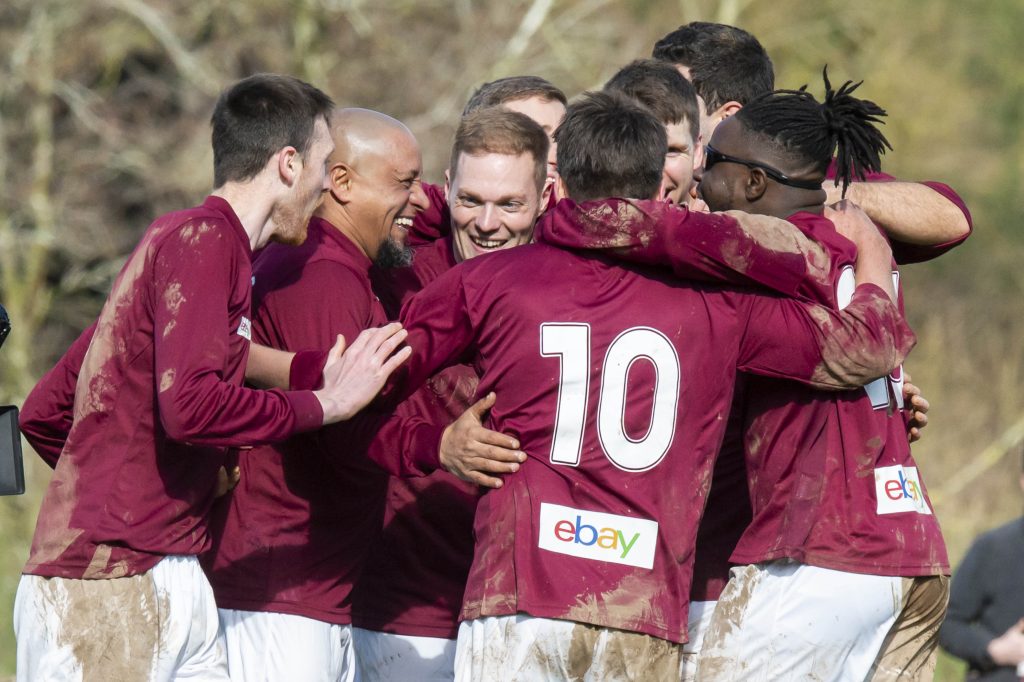 Jessica Dyas, Director at Weber Shandwick, said: "We are so proud to have helped democratise one of the most exclusive moments of the year for football fans across the country, engaging local communities and Sunday league teams along the way. The wealth of chatter and coverage across hundreds of outlets and channels demonstrates just how much joy and buzz the campaign generated – and when the whistle blew, there wasn't a friend's mum or local cab driver who didn't know about it."
Credits
Project Name: Dream Transfer
Client Name: eBay
eBay UK:
Chief Marketing Officer: Eve Williams
Head of Brand Marketing: Alex Allcott
Head of Social, Influencer & Content: Faisal Alani
Head of PR & Integrated Campaigns: Menreet Kaur
Head of Marketing Operations & Onsite Creative Strategy: Ed Maule & Kirsten Freeman
Social Media & Content Manager: Jack Francis
PR Manager: Annie Shields
Onsite Senior Account Manager: Isabell Proschak
Marketing Executive: Eva Lamerton
eBay for Charity Lead: Melissa Selwood
Social Impact Programme Coordinator: Millie Buttery
McCann London
Chief Creative Officers: Laurence Thomson & Rob Doubal
Chief Strategy Officer: Theo Izzard-Brown
Executive Creative Directors: Ray Shaughnessy & Dan Norris
Creative Directors: Matt Searle & Olly Wood
Creative Team: Connor Wynn & Jack Stoten
Global Business Lead: Sailesh Jani
Business Director: Tom Oliver
Account Director: Conor Lloyd
Senior Account Manager: Katie Dumbrell
Account Associate: Sasha Semple
Strategy Director: Jonathan Bender
Project Manager: Neil Tingey
Head of Design: Lisa Carrana
Design Director: Andy McGuigan
Craft
Head of Integrated Production: Sophie Chapman-Andrews
Executive Producer: Alec Christie
Senior Producer and produced by: Claire Welberry
Post producer: Shawn Sobers
AFX/Editor: Chris Jordan
3D Artist: Marc Khachfe
Post-Production by Craft
Implementation Director: Sandra Perrier-Faucher
Implementation Manager: Barbara Puddu
Account Director: Joe Michaelides
Senior Print Producer: Liam White
Photography Executive: Aisling Duffy
Senior Photography Executive: Nikki Bryan
Retoucher: Joseph Lewis & Gary Hardwick
Artworkers: Rick Preskey & Stuart Lowndes
MediaCom (Media)
Head of Media Creativity: Lindsey Jordan
Business Director: Jon Hendry
Media Account Director – Stephanie Smith
Director for Sports & Entertainment – Alex Brown
Production Account Director: Marco El Gabry
Producer: Freddie Brown
Weber Shandwick (PR)
Director: Jessica Dyas
Account Director: Francesca Raquet
Senior Manager: Jess Brand
Manager: Molly Minter
Associate: Jack Johnston
Junior Associate: Ella Major
Seen Connects (Talent)
Business Director: Joe Mowles
Senior Account Director: Emma Wills
Senior Account Manager: Hannah Tompkins
That Lot (Social)
Account Director: Rosie Shipp
Social Media Strategist: Mark Shpungin
Account Manager: Arthur Hepburn
Creative: Joe Smart
Production Company Launch & Announcement
Production Company: At Trayler
Photographer/Director: Amit & Naroop
Exec Producer & produced by: Kay Edwards
Producer Milan: Krisitan Arija
Producer Paris: Charlotte Cohen
Production Assistant: Bonnie Ophelia
DOP: Jacob Schule Lewis
Production Company Match Days
Production Company: Helo
Director: Glenn Kitson
Executive Producer: Phoebe Smith
Producer: Alex Jefferson
Production Manager: Sorcha Bacon
Production Assistants: : Brooklyn Adebowale / Joss George Gilbert
1st AD: Clara Paris
DOP: Ed Hubert
Sound: Olly Jennings
Editor: James Heaphy
Editor main films: Pete Fullarton
Composition and audio: Killer Crab Men
Grade and online: Number 8
Onsite agency: Feed
Media partners: Sky and JOE
Credits
Project Name: Dream Transfer
Client Name: eBay
eBay UK:
Chief Marketing Officer: Eve Williams
Head of Brand Marketing: Alex Allcott
Head of Social, Influencer & Content: Faisal Alani
Head of PR & Integrated Campaigns: Menreet Kaur
Head of Marketing Operations & Onsite Creative Strategy: Ed Maule & Kirsten Freeman
Social Media & Content Manager: Jack Francis
PR Manager: Annie Shields
Onsite Senior Account Manager: Isabell Proschak
Marketing Executive: Eva Lamerton
eBay for Charity Lead: Melissa Selwood
Social Impact Programme Coordinator: Millie Buttery
McCann London
Chief Creative Officers: Laurence Thomson & Rob Doubal
Chief Strategy Officer: Theo Izzard-Brown
Executive Creative Directors: Ray Shaughnessy & Dan Norris
Creative Directors: Matt Searle & Olly Wood
Creative Team: Connor Wynn & Jack Stoten
Global Business Lead: Sailesh Jani
Business Director: Tom Oliver
Account Director: Conor Lloyd
Senior Account Manager: Katie Dumbrell
Account Associate: Sasha Semple
Strategy Director: Jonathan Bender
Project Manager: Neil Tingey
Head of Design: Lisa Carrana
Design Director: Andy McGuigan
Craft
Head of Integrated Production: Sophie Chapman-Andrews
Executive Producer: Alec Christie
Senior Producer and produced by: Claire Welberry
Post producer: Shawn Sobers
AFX/Editor: Chris Jordan
3D Artist: Marc Khachfe
Post-Production by Craft
Implementation Director: Sandra Perrier-Faucher
Implementation Manager: Barbara Puddu
Account Director: Joe Michaelides
Senior Print Producer: Liam White
Photography Executive: Aisling Duffy
Senior Photography Executive: Nikki Bryan
Retoucher: Joseph Lewis & Gary Hardwick
Artworkers: Rick Preskey & Stuart Lowndes
MediaCom (Media)
Head of Media Creativity: Lindsey Jordan
Business Director: Jon Hendry
Media Account Director – Stephanie Smith
Director for Sports & Entertainment – Alex Brown
Production Account Director: Marco El Gabry
Producer: Freddie Brown
Weber Shandwick (PR)
Director: Jessica Dyas
Account Director: Francesca Raquet
Senior Manager: Jess Brand
Manager: Molly Minter
Associate: Jack Johnston
Junior Associate: Ella Major
Seen Connects (Talent)
Business Director: Joe Mowles
Senior Account Director: Emma Wills
Senior Account Manager: Hannah Tompkins
That Lot (Social)
Account Director: Rosie Shipp
Social Media Strategist: Mark Shpungin
Account Manager: Arthur Hepburn
Creative: Joe Smart
Production Company Launch & Announcement
Production Company: At Trayler
Photographer/Director: Amit & Naroop
Exec Producer & produced by: Kay Edwards
Producer Milan: Krisitan Arija
Producer Paris: Charlotte Cohen
Production Assistant: Bonnie Ophelia
DOP: Jacob Schule Lewis
Production Company Match Days
Production Company: Helo
Director: Glenn Kitson
Executive Producer: Phoebe Smith
Producer: Alex Jefferson
Production Manager: Sorcha Bacon
Production Assistants: : Brooklyn Adebowale / Joss George Gilbert
1st AD: Clara Paris
DOP: Ed Hubert
Sound: Olly Jennings
Editor: James Heaphy
Editor main films: Pete Fullarton
Composition and audio: Killer Crab Men
Grade and online: Number 8
Onsite agency: Feed
Media partners: Sky and JOE
Source: McCann London