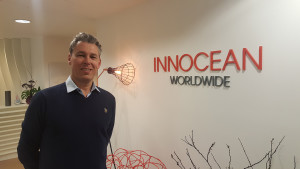 Matt Pye has been hired by INNOCEAN UK to lead the next chapter in the development of UK business. His remit is to further strengthen the relationships with key INNOCEAN clients including Hyundai Motors UK and Kia Motors UK, and to lead the charge on new business.
Pye will report in to Sang-Hoon Rhee, the chief executive officer of INNOCEAN Worldwide European Regional HQ. He said: "IWUK is one of the fast growing units of INNOCEAN European network. We have Matt who will lead INNOCEAN UK business and help steer IWUK to provide more qualified services to clients."
Pye said: "I'm delighted to be joining INNOCEAN UK at such an exciting time. The agency has seen rapid growth since its launch in 2006, but the hunger and appetite for future success is palpable. I'm looking forward to helping further strengthen the relationship we have with Hyundai and Kia, and to attract some ambitious new clients to the agency. I'm expecting to do some great work in the near future, we definitely have the talent in place to do it."
INNOCEAN Worldwide was launched in 2005 and opened the UK office in 2006. INNOCEAN worldwide is one of the fastest growing agencies in the world. It now boasts 22 offices, 1,600 staff and an enviable client list that includes AMC networks, Turkish Airlines, Canon, Samsonite, Nespresso, NRG and Footjoy.
Pye starts his role with immediate effect.