Colgate®, the UK's leading oral care brand and social enterprise Change Please have partnered with Channel 4 on a new campaign "Futures to Smile About", brokered by Wavemaker. Its aim is to highlight the barriers those experiencing homelessness face when trying to access crucial health services including dental care, and what can be done to help.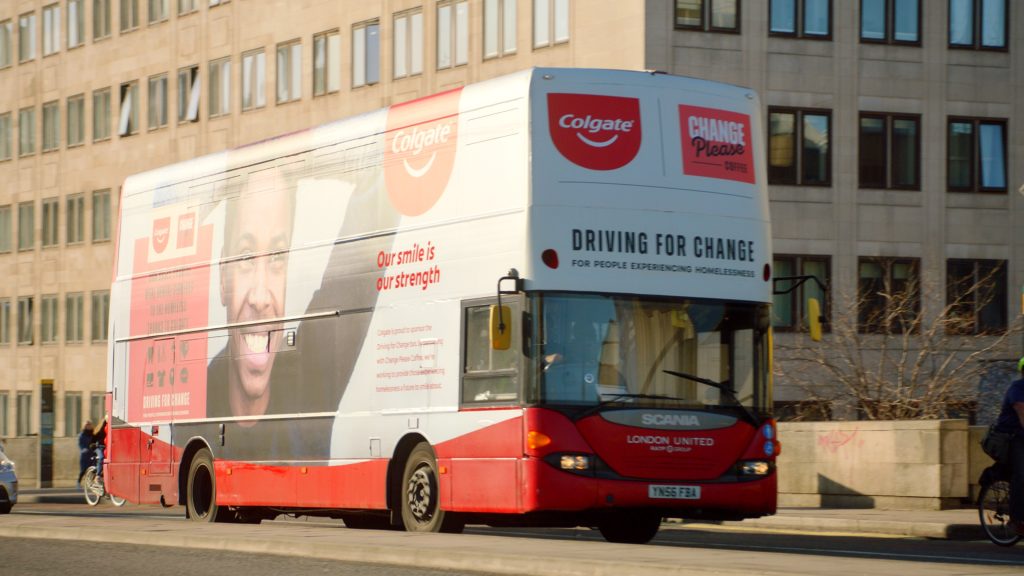 "Futures to Smile About" will launch on Friday, 29th April with a docu-style ad telling the story of Raphael, who experienced homelessness when he was 17. Produced by Armoury London and featuring TV presenter and actor Karim Zeroual, the content will launch during Gogglebox with a Channel 4 branded introduction, and run until the 15th July across the Channel 4 portfolio, including All 4, as well as Colgate's owned platforms.
Raphael encountered difficulties with his teeth and gums and couldn't access the dental care he needed as he didn't have a permanent address. He was initially helped by Change Please three years ago and is a vital part of the organisation. Raphael now works as a trainer and a mentor on the barista programme, which aims to empower the homeless community.
The campaign follows the successful 'Driving For Change' initiative launched in October 2021 in line with World Homeless Day 2021. Colgate and Change Please unveiled two London buses 'The Colgate Bus for Change' that were repurposed to provide vital support to rough sleepers and help tackle health problems before they worsen.
The Colgate Bus for Change runs three times a week in Hackney and Central London and gives homeless people access to valuable services such as GP consultations, a mobile dentist, showers, and haircuts. It's proven to be an invaluable service, ensuring those experiencing homelessness are able to get oral support when needed. Since January it has provided over 150 people – including Raphael – with free dental care and advice. The project aims to expand nationally before rolling out globally in the future.
In addition, the campaign will include ongoing support to the Change Please Foundation with social media activations across Colgate UK's Instagram, Facebook and Twitter channels.
Taylor Gordy, Vice President & General Manager for Colgate Northern Europe, Colgate explained: "For those experiencing homelessness, a lack of a permanent address can be a real barrier to accessing vital dental care services. We're proud to be partnering with Change Please and launching the Bus For Change to provide critical oral healthcare that everybody deserves. We're happy to see the positive impact that the bus has already had, and we're looking forward to expanding the presence to help even more people facing homelessness across the UK."
Abigail Russell, Partnerships and Sponsorships Director, Wavemaker UK commented: "In overseeing this project, I had the privilege of spending two days filming with these inspiring people and understanding more about their background, their experiences with homelessness, and how they ended up in that position. Homelessness can be highly visible in our community, but also heavily stigmatised, so it's important that we share these stories and even more importantly, demonstrate that an impossible situation can be reversed with the right support."
Karim Zeroual added: "It's important to spread awareness of what homeless people have to go through. Not only not having a roof over your head, but to not get any healthcare or dental care is beyond imaginable. Through my conversations with Raphael, I have learnt that you can still have positivity and a zest for life no matter what you're going through. Hearing his stories was hard; he's been through a lot, and the fact that he is still so strong and optimistic is amazing and so inspiring."
Kirsten Gillard, Agency & Client Sales Leader, Channel 4 said: "We're really proud to be collaborating with Colgate and Change Please to help raise awareness around the barriers to dental care faced by homeless people. The docu-style ad is truly inspiring and it's fantastic to see such an important issue be tackled on TV in such a creative way."
Wavemaker was responsible for pitching Channel 4 as a partner, brokering and negotiating the deal, through to project management and delivery of the final project.
VIEW THE FILMS HERE:
Source: Wavemaker