Some of the UK's most loved brands, including Boots, Carex and O2 have come together to embed the safe behaviours and hygiene habits as part of everyday life
They are joined by other brands from the wider hospitality sector, such as McDonalds and Greene King, who are also championing a safety-first approach to reopening the UK economy
Latest coronavirus Government campaign launches with new uplifting TV advert showcasing the things we love reopening safely
Takeover of Piccadilly Lights marks the launch of Enjoy Summer Safely
As restrictions begin to ease, the government has launched the latest phase of the UK's coronavirus response, Enjoy Summer Safely. The campaign celebrates the opening of key businesses, such as pubs, restaurants, hairdressers and barbers and aims to encourage people to go back to things they have missed, as long as they follow the COVID-19 secure guidelines wherever they are. This includes adhering to four key behaviours:
Maintaining good hygiene with regular hand washing and cleaning
Limiting contact with friends and family
Keeping a safe distance
Self-isolating if you or anyone in your household has symptoms
Since lockdown began, brands and businesses have played a pivotal role in encouraging the nation to Stay at Home and Stay Alert. With the support of Keith Weed, President of the Advertising Association, some of the nation's best loved brands have joined other businesses from the hospitality industry and together they will be using their influence to contribute to a safety-first approach in reopening the economy. This will be the first time the hospitality industry and leading brands across the health and hygiene, retail, telecomms and finance sectors have come together in this way and will be promoting the Enjoy Summer Safely messaging as part of their brand communication and advertising throughout summer. Brands include Boots, BT, Carex, Cif, Compare the Market, Dettol, Domestos, Dove, EE, Greene King, JD Wetherspoons, McDonald's, Mastercard, Mitchell & Butlers, Nationwide, O2 and Vodafone.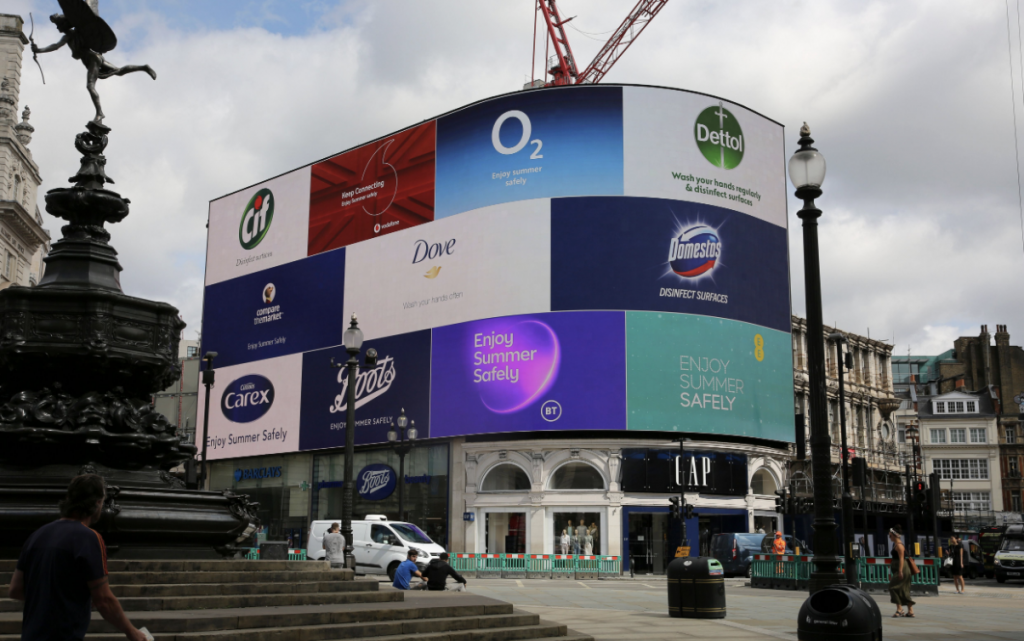 Their support was highlighted this morning (Friday) on London's Piccadilly Circus big screen as a montage of updated logos from some of the brands with Enjoy Summer Safely message was projected to mark the launch of the campaign.
The new Enjoy Summer Safely campaign sees a new TV advert which will air this evening at 17:15 on ITV, as well as radio, print, OOH, social & digital display advertising. The new advert marks a change in the tone of the recent coronavirus advertising, with a positive and uplifting advert featuring the reopening of real cafes, restaurants, bookshops, hair salons and other places people have been unable to access since the outbreak began. It welcomes the public back to some of the things they've missed during lockdown and shows examples of safety measures that are now in place in different settings, so that we can all begin to venture out again in a safe manner. It finishes by encouraging the nation to get out there and enjoy what they love, safely. The campaign will run until August.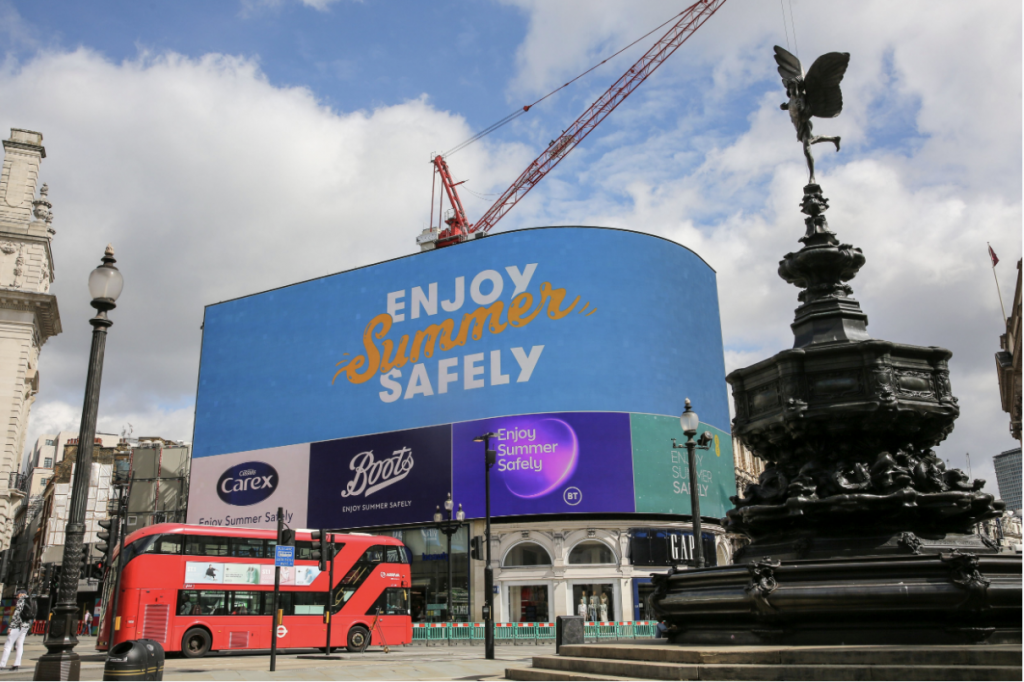 President of the Advertising Association, Keith Weed, said: "Some of the U.K.'s most loved and trusted brands are coming together today to help embed safe behaviours and hygiene habits as part of everyday life.
The safety and well-being of people has been the top priority of businesses during recent months. In the same way brands helped in communicating the lockdown, they can also contribute to helping everyone re-engage with everyday life, safely. By communicating the importance of washing your hands, cleaning surfaces and keeping safe distances, brands can help mainstream these important messages.
The convening of brands in this way for the greater good of society is hugely encouraging and I look forward to seeing the creative and ingenious ways brands contribute to the campaign.
Through the Enjoy Summer Safely campaign some of the U.K.'s biggest brands will help communicate a message of safety at this important moment.
I thank businesses which are already signed up to support the Enjoy Summer Safely campaign and encourage others to join in at this important time for everyone in the UK."
Conrad Bird CBE, Director of Campaigns and Marketing at the Covid-19 Hub, Cabinet Office, comments: "Government communications has been critical in supporting the lockdown from the start, giving a clear and compelling message about Staying at Home and Staying Alert. Now, by working in close partnership with great brands and senior figures from the advertising industry, we can emphasise the government's safety-first approach to easing lock down and enabling businesses to start to recover. This campaign, working in tandem with our public health communications, marks an exciting step in our aim to protect both lives and livelihoods. 
Source: Mullen Lowe