Harrison's Fund has unveiled its brave new campaign which it hopes will shine a light on the lack of treatment options and funding for children with Duchenne Muscular Dystrophy.
Created by Rocking Horse Pictures, 'F*ck That, Fund That' is a 01:35 min video which focuses on the message of the injustice of this life limiting disease and the mixture of emotions this brings with it as a parent. The video sees the founder, Alex Smith, and his son, Harrison, who suffers from the condition, sit down and talk about the impact Duchenne has and outlines their mission to beat it.
The video has been shared on the Facebook, Instagram, Twitter and YouTube as well as its website and has so far has had 18,000 views, reaching just under 50,000.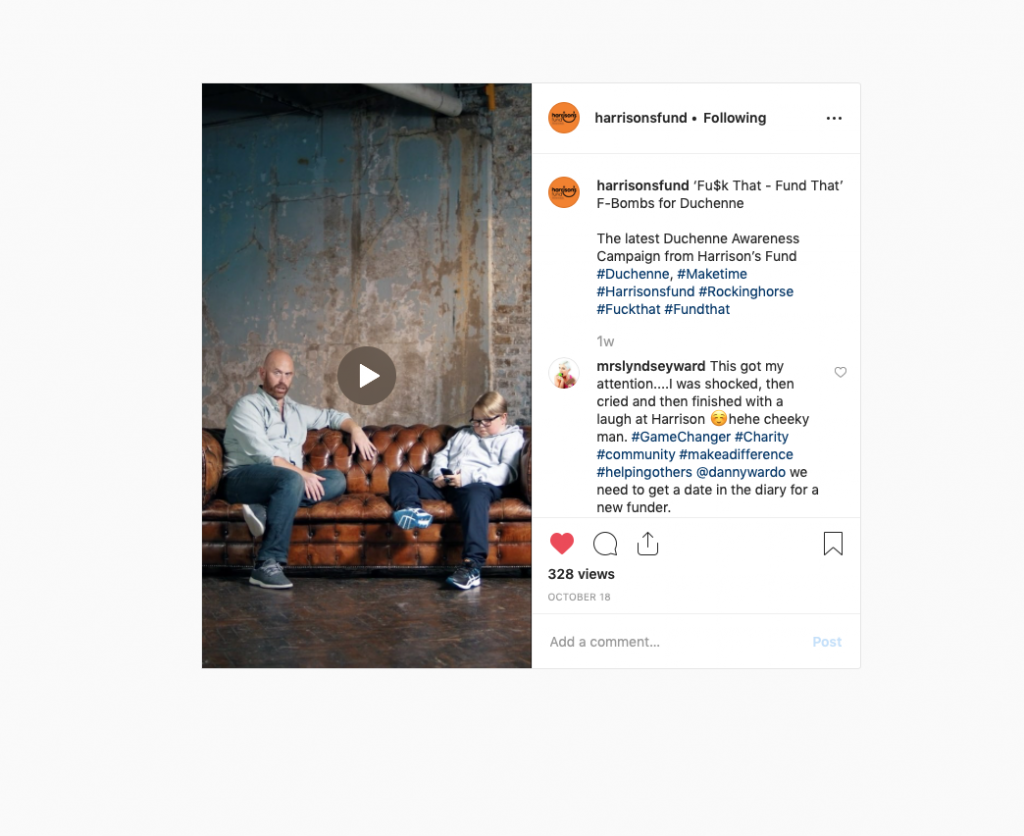 Marc Kennard, one of the Directors at Rocking Horse Pictures said: "For the 'Fund that' campaign we worked with Alex to create a bold and compelling film with an ambition to raise awareness of Duchenne and Harrison's Fund, and hopefully translate that into measurable donations.
"I think the decision to involve Harrison in the film was a key step in its development, although importantly Alex never wanted Harrison to be seen as a victim, this was about an empowering view on the impacts of Duchenne, as a parent and as a child.
"The use of strong language was something that came genuinely from the feelings of anger, frustration and courage that all parents and children experiencing Duchenne feel. It does give us a very interesting angle to the delivery, but it's not there just for shock value. It's a genuine, heartfelt use of a word that goes some way to capturing the level of emotion and urgency tied up in a need to find a treatment for this terrible condition as quickly as possible.
"The charity's history of strong campaigns meant we had a strong platform to build on and in Alex a really brave client prepared to take risks. Ultimately though the success of the piece is down to the heart-warming natural chemistry between a father and son. You can't plan that, they're not actors and it means what you see is honest and all the more powerful for it."
The charity has a history of shock campaigns such as the 'I wish my son had cancer' and 'I wish my son was a dog' adverts which both garnered worldwide attention.
Alex Smith, founder of Harrison's Fund said: "Life and living with Duchenne can be hard, I really wanted to produce a campaign video that was honest, not sugar-coated. A message that families with Duchenne would recognise but also one that those without could empathise with. Honest, Truthful and Raw."
Since it was founded, Harrison's Fund has given more than £1,000,000 to fund research and supported 16 projects to try and find better treatments and ultimately a cure for Duchenne.
To support the charity's mission to beat Duchenne please visit www.harrisonsfund.com inShare
Source: Harrison's Fund