● Great sleep doesn't happen overnight. It's engineered. Simba's unique patented titanium AerocoilⓇ springs intelligently and individually map to your body shape, the Garage Soho unveils spirited and uplifting advertising campaign for Simba that airs 23rd July
● The TV ad premieres on Sky, Channel 4 and ITV
● The Garage Soho worked in collaboration with production agency Mrs Baxter
Fresh engineering requires a fresh advertising campaign. Springing into action, the award-winning creative agency the Garage Soho has delivered. 
Sir John Hegarty's team has unveiled a new advertising campaign for Simba designed to capture the comfort created by the mattress innovator's sleep technology, expressing the essence and feeling it evokes through a spirited and uplifting 30 second film.
The advert devised by the Garage Soho and production agency Mrs Baxter, will feature TV, paid social and digital ads.
As a market leader in the UK and Europe, to continue its rapid growth and elevate the brand from a competitive category, Simba needs to stand out.
Great sleep doesn't happen overnight. It's engineered.Simba's unique patented titanium AerocoilⓇ springs intelligently and individually map to peoples body shape – even if you're sharing a bed with someone of an opposite build or stature, practically guaranteeing a good night's sleep. But unlike memory foam, they allow air to flow through the mattress; keeping you cool and well supported for an undisturbed sleep.
Up to 5,000 unrivalled premium quality coils absorb pressure in a way that traditional mattresses can't – ensuring body weight is evenly distributed. For true gravity-defying comfort.
Championing these powerful and dynamic product truths, the Garage Soho has brought this to life via 'Heaven'.
The 30 second TV spot opens on a blank screen. Cue the opening refrain of the song, Cheek to Cheek "Heaven – I'm in heaven …". With a nod to the sensation of weightlessness, or zero gravity, we see the elated faces of a man followed by a woman leaping one by one effortlessly in the air in slow motion as the voiceover ensues.
All of a sudden, the couple are joined by their lively kitty, springing joyfully through the air cutting to the voiceover 'Simba engineers have created their most comfortable mattress – whoever shares your bed."
The advertising campaign will be shown on Channel 4, ITV and Sky, together with paid spend on Facebook, Instagram and YouTube.
Sir John Hegarty is an investor and Creative Advisor to Simba through the Garage Soho.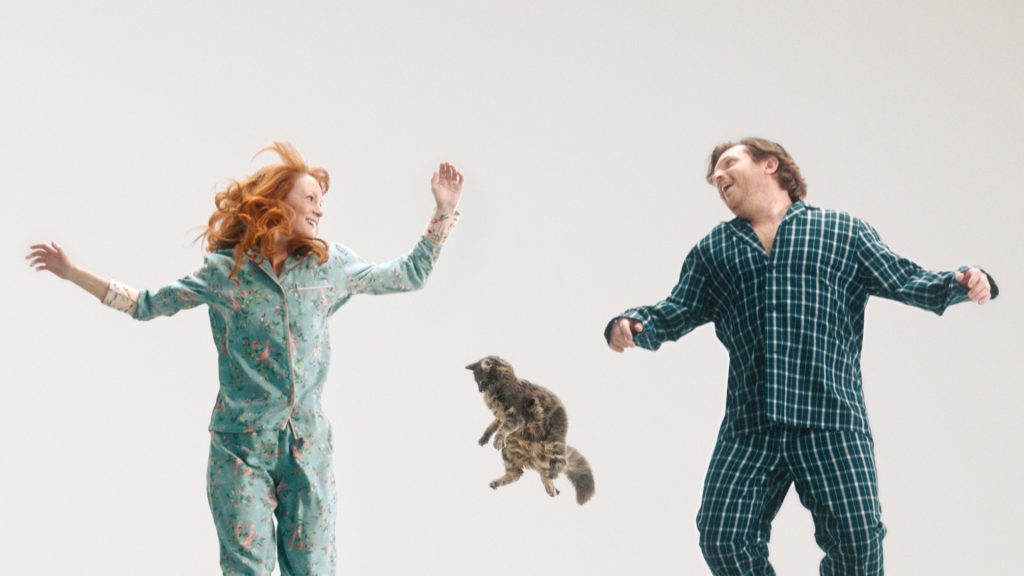 Steve Reid, co-founder and CEO of Simba, "Our mission from day one has been to innovate rather than replicate. There is overwhelming scientific evidence to support the view that better sleep leads to improved energy and performance as well as being a powerful stress reliever.
"Just as our technology continues to evolve in leaps and bounds, we know from our 150,000 five star reviews that our customers are waking up healthier, happier and with a renewed spring in their step."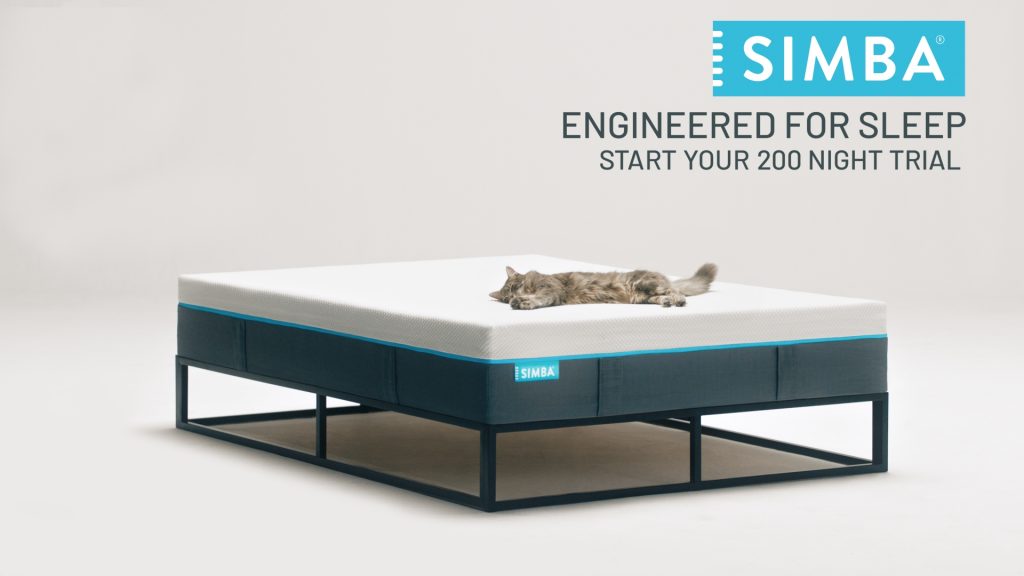 Sir John Hegarty, commented: "We believe in advertising that champions the brand and what makes it superior. The hero of this particular piece is the 5,000 titanium springs that help you sleep comfortably. So we created a campaign that showcases that feeling of being in heaven."
Credits:
Garage Soho Creative Founder: Sir John Hegarty
Garage Soho Strategy Founder: Nick Kendall
Garage Soho Creative: Opal Turner
Garage Soho Project & Production Manager: Imogen Hargreaves
Film Credits
Production Agency: Mrs Baxter
Agency Producer: Sarah Marcon
Production Company: Another Film Company
Director: Steve Reeves
Producer: Tim Marshall
Editor/Editing House: No.8
Sound: No.8
Editor/Editing House: Bruce Townend, The Quarry
Music Re-recording: Goldstein Music
Source: Garage Soho