Coronavirus has changed the way UK consumers shop – perhaps forever. When it was announced that all non-essential retail stores must close from March 23rd, the UK's bricks and mortar retail spend disappeared overnight. Many retailers who traditionally relied heavily on their high street stores for revenue had no choice but to instantly try to attract their customers online.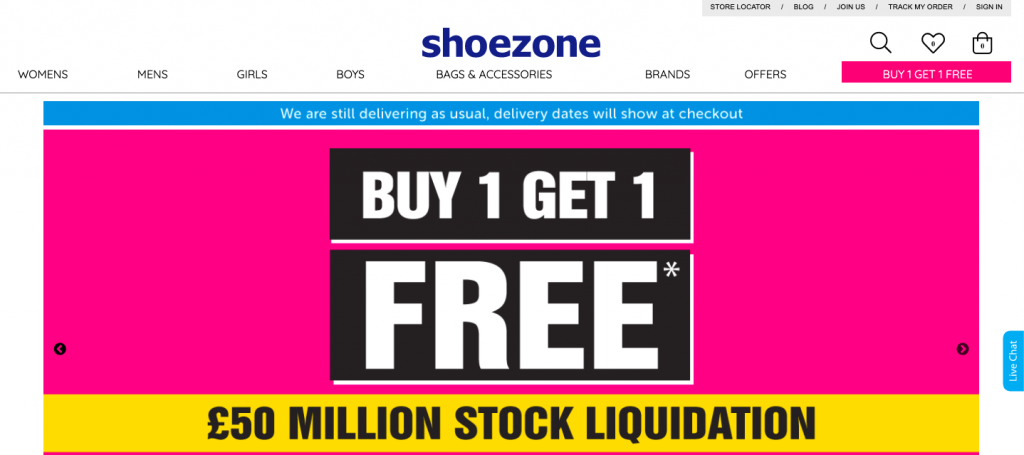 Shoe Zone, a traditional bricks and mortar footwear retailer, was immediately impacted by this and so it launched a 'buy one get the cheapest free' offer on its website to attract customers to continue purchasing online. In addition, it added a banner on the homepage linking to a message from its CEO on its response to the Coronavirus pandemic. Delivery estimates were also updated so that customers knew to expect longer wait-times than usual. The page also reassured customers that they have 12 months to return items. 
Turning browsers into loyal customers during a crisis
Unlike many UK retailers, Shoe Zone had previously invested heavily in its e-commerce site, through a partnership with operations experience (OX) specialists parcelLab. This meant that it was in good shape to handle an increase in orders, which came as a result of this instant shift in consumer shopping habits from offline to online.
Shoe Zone was already communicating proactively with its online customers during shipping, through an integrated track & trace page and branded, up-to-date delivery communications.
Decrease in WISMO calls
With WISMO (Where is my order?) enquiries already accounting for over 70% of queries for retailers' customer service centres, according to reports, the crisis has resulted in more uncertain customers who want to know when their parcel will arrive, or if it will at all.
Through the proactive communication Shoe Zone had implemented with the help of parcelLab, it actually saw a decrease in WISMO calls during March. Its customers are being kept in the loop and informed proactively about any delays, meaning they don't need to contact customer service desks to ask. This frees up valuable time for the team to answer more critical issues.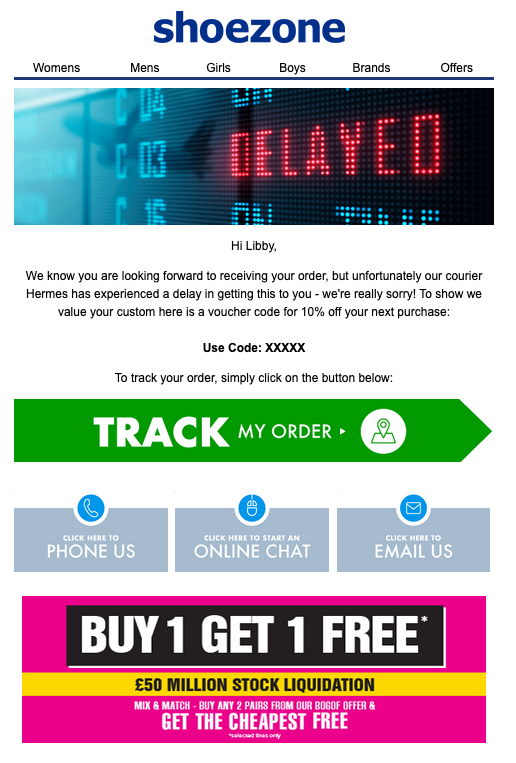 Taking back control of post-purchase communications
Marketing emails usually attract open rates of around 15-25% and click-through rates of around 2.5%. By taking control back of its post-purchase communications and taking advantage of these emails as an additional marketing channel, Shoe Zone is seeing engagement rates of 74%, unique open rates of 68% and click-through rates of 27% as a direct result of these additional emails.
"By usual marketing tactic standards, these engagement rates are unheard of," says Conor McGrath, Head of UK and Nordic Clients at parcelLab. "By communicating with its customers when they are most engaged (during delivery) and creating an easy, pleasant experience during the most stressful part of the customer journey, more customers will become loyal to Shoe Zone. Without a doubt, Shoe Zone's customers will have a better customer experience, leaving them happy and more likely to become long-term brand ambassadors."
"During these difficult times it is especially important that we offer our customers the best possible customer experience," says a spokesperson for Shoe Zone. "Thanks to parcelLab we are able to keep them up-to-date on the status of their order at all times and provide them with important updates (i.e. delays). This means we can avoid stressful shopping experiences for our customers and keep customer service enquiries as low as possible. We are very happy to have our partnership with parcelLab, especially during these hard times."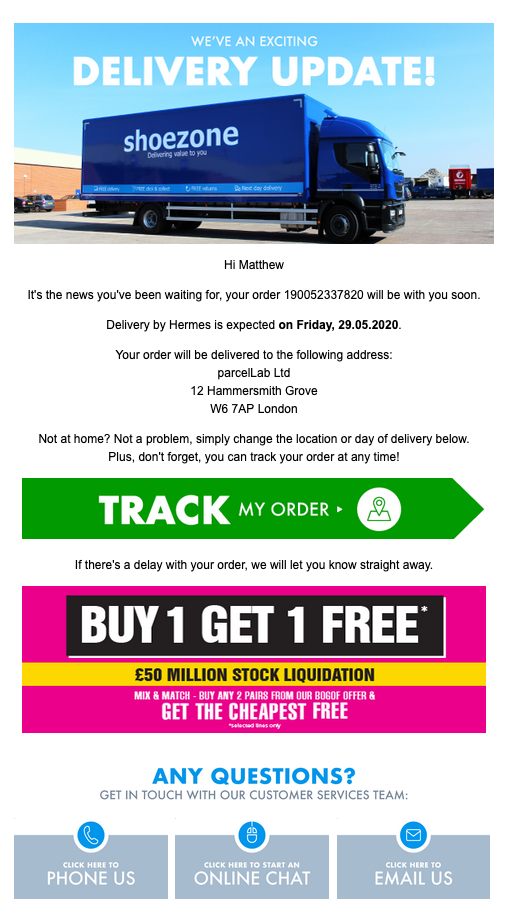 Source: Shoe Zone