Over the past few weeks, we've had a once in a lifetime opportunity to step up and help our community. Some businesses have used their facilities to make hand sanitizer, hospital gowns, providing free or discounted food to key workers, all according to their expertise. Our expertise is insight, strategy and brand experience so during COVID-19 we wanted to support our clients, and the wider industry, by sharing our mix of customer knowledge and creativity to help brands understand the impact on consumer behaviour.
We started by publishing a number of surveys, the responses to which have been analysed and the findings split into short, digestible snapshot insights that have been shared with businesses across retail, food & beverage, travel, property development, hospitality and leisure sectors.
Issue No 1 – covering virtual connections, finding time to train and saving patterns
Issue No 2 – covering gendered experiences, home retreat and relationship with alcohol
Issue No 3 – covering exercise behaviour and the challenges for bands
For instance the findings indicate that a key concern is connection, and ensuring people stay close to their loved ones, even though it has to be done virtually. Video chats with friends and family is one of the top new or increased activities that people have undertaken during the lockdown, with 79% of people doing this for the first time, or doing it more frequently, and it's one of the things that is bringing the most comfort to people in these times. We would challenge brands to think how human connection feeds into their brand – even if video chats have nothing to do with the offer. It is worth remembering that when we lost everything, the first thing we wanted to do was connect. As a brand are you offering customers a chance to truly connect with you or others? Do customers see you as something quite unreachable or have you managed to show them your humanity?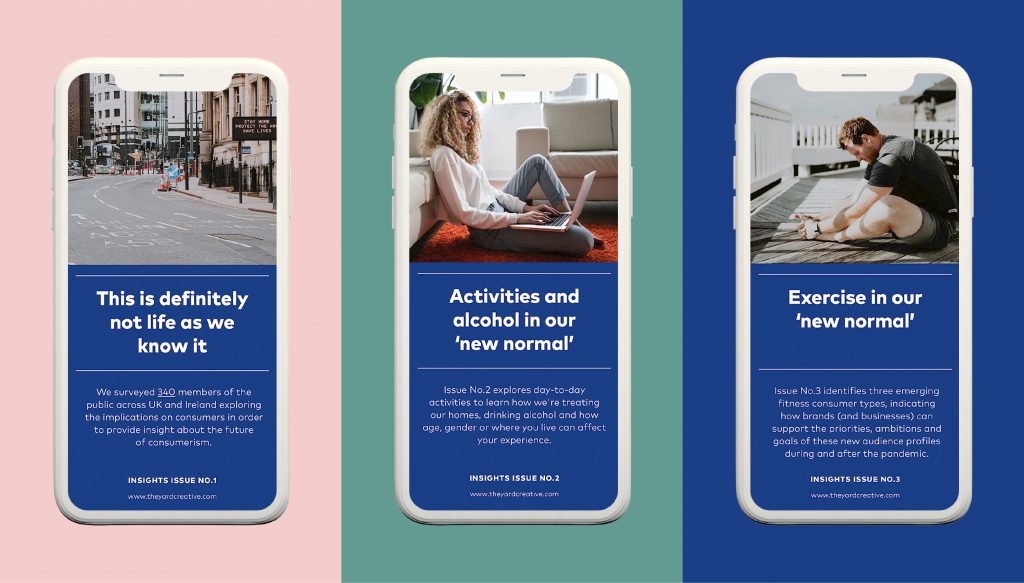 The findings also indicate a rise in home exercise and fitness. People who were previously quite sedentary are now more interested in exercise as a lot of people feel it's the only thing they're allowed to do. Perhaps to their surprise, they have found that exercise makes them feel great, and 73% of them intend to keep up their current fitness level once lockdown finishes. Another unexpected finding was that Gen X and Baby Boomers are exercising more than Millennials and Gen Z. Gen X and Baby Boomers who currently have the luxury of time are aware that once they return to 'normal' they will need to find a new balance to enable the current levels. 67% of more frequent exercisers say that changing their own priorities will be the one thing that helps them the most in maintaining their new regime. Brands that can help these consumers address priorities and help them do more of what they love, will have a real advantage.
We also found that people's homes are becoming more important to them, naturally, as they are forced to spend more time there. We don't think anyone can have missed the rise in banana bread baking (!!) but there's also been a huge rise in bigger projects, both DIY (up by 24%) and gardening (up by 35%). We think that going forward, brands who are able to provide easy, cost effective home improvement solutions for people who own and rent, will continue to do well.
The future is uncertain but we know that consumer behaviours and attitudes will continue to change.  It will be imperative for brands to get ahead of those changes and understand the new landscape. We would love to share more insights so please get in touch with insight@theyardcreative.com for the full report or follow @theyardcreative to access the snapshot reports as they are launched. Stay safe, wherever you are.
By Sian James-Royle, Co-Founder, The Yard Creative