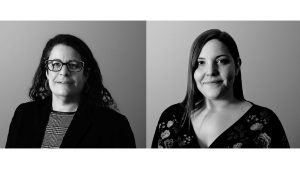 For more than 30 years, LEAP (Loveurope and Partners) have provided integrated advertising production services to agencies, advertisers and marketing departments across a wide range of industry sectors. LEAP is pleased to announce two new appointments to help support and grow their roster of clients. Fran Asaipillai joins the Chichester office as Business Development Manager and Virginia Álvarez joins the Language and Culture team in the London office as Transcreation Account Manager.
LEAP Chichester specialises in creative, digital and employer branding solutions to the brand marketing, corporate communications, B2B and employer branding sectors.
LEAP Chichester's Managing Director David Kimmer says, "We are very excited to welcome Fran to the LEAP Chichester family. Fran's primary focus will be building and growing our regional and direct B2B customer base. With a strong creative and content-based background in sales and account management, Fran is well-versed in identifying and nurturing new customers which will help us unlock creative/digital opportunities within ambitious and forward-thinking companies across a wide range of industry sectors."
Fran's business development background is in the fields of publishing, advertising and video. She has extensive experience in meeting with business leaders, learning about their challenges and offering tailored solutions. Her track-record shows her dedication to relationship building and customer service excellence.
Fran says, "LEAP offered me the exciting challenge of building our digital and creative client portfolio on the south coast and putting LEAP Chichester on the map."
At LEAP Language and Culture, the team approach each project with the ethos, Think Culture First. They achieve international campaign success through a global network of over 3,500 local market experts with London-based account managers providing centrally-managed, dedicated support and quality control.
Virginia Álvarez is fluent in Spanish and English, and she also speaks French and Italian. She brings a wealth of experience in international marketing communications including translation, transcreation, copywriting, cultural consultation, multilingual SEO, quality control for multilingual versions of creative and strategic content as well as account management. Her clients include top international agencies and brands seeking to optimise their global campaigns across print, digital and broadcast.
Virginia says, "Languages and communication are my passion, and I am very excited to work alongside the wider team of producers and designers at LEAP to provide an integrated service that adds value to our clients' offering and allows them to connect with customers around the globe through creativity and cultural sensitivity."
Language Services Director, Vandana Pankhania says, "We are delighted to have Virginia join our team. Her energy and passion regarding intercultural communications is a great asset, as is her interest and knowledge across the various fields of integrated production services. She tackles multi-market campaigns with an ease and professionalism that suits our clients well."
Source: LEAP