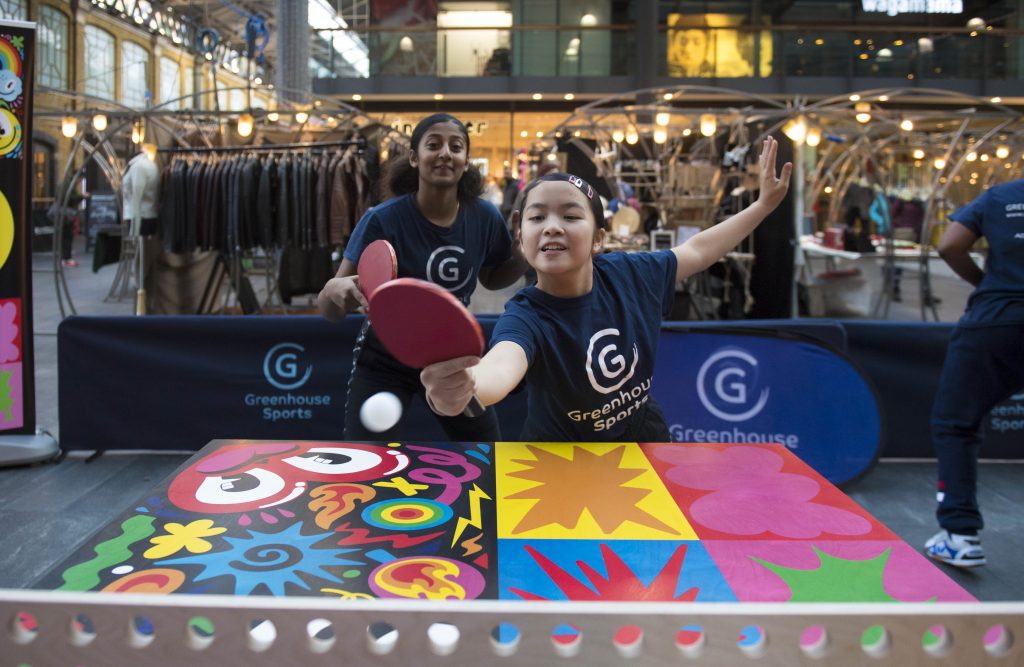 To drive awareness of the London charity Greenhouse Sports, Dark Horses, the sports creative agency, has brought sports and the arts together in one activation by creating two unique table tennis tables with Art of Ping Pong and artists Hattie Stewart and Rob Flowers.
They will be open for anyone who wants to pick up a paddle and play ping pong from the 11th – 15th November and will be located in prominent positions in Spitalfields Market.
They will be officially launched by GB Netball star and Commonwealth Gold medal-winner, Ama Agbeze, who is a passionate advocate of the power of sport to change lives.
Members of the Greenhouse Sports program will be present offering demonstrations and coaching tips.
There will be an ongoing competition throughout the week to win limited edition prints of the table artwork. At the end of the campaign, the tables will be auctioned off with all proceeds going to Greenhouse Sports, a charity that uses coaching and mentoring to support disadvantaged young Londoners.
The charity delivers crucial work across London to help decrease gang involvement and improve physical and mental health in the communities that need it most.
The tables were designed and made by Art of Ping Pong, featuring artwork that has been created specifically for the charity. One will be located under the canopy in Bishops Square, Brushfield Street and the other will be located inside the market, outside Leon.
Ama Agbeze said: "This event is an exciting and fun way to showcase Greenhouse Sports vital work to the London public. I'm a fervent believer in sport's ability to unlock potential, development and confidence in young people, particularly those from disadvantaged or challenging backgrounds; a belief that has come from my own lifetime in sport and knowing the work Greenhouse Sports coaches do."
Simon Dent, CEO and founder of Dark Horses, said: "We're delighted to be working on such an exciting project with Greenhouse Sports. Huge thanks to Hattie, Rob, Art of Ping Pong and the team at Spitalfields."
Source: Dark Horses