Lynx, one of the world's most iconic male grooming brands and owned by Unilever, is celebrating the 25th anniversary of its longest running and hugely popular fragrance, Africa, with a new limited edition range designed by award winning brand design agency PB Creative. London based PB Creative has partnered with the Lynx brand (known as Axe in other markets) for the past 9 years.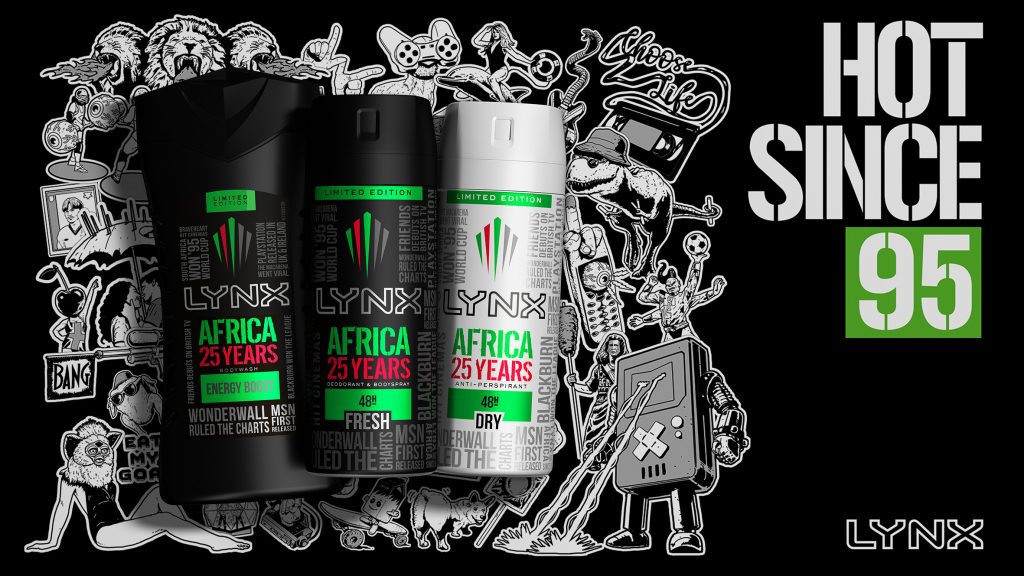 Best known for its iconic black bodyspray but with a range that includes daily fragrances, body wash, hair care and styling products, Lynx has always been a core product in young guys' bathrooms, helping them to smell great and look and feel their best. After all, Lynx/Axe is the biggest male fragrance brand in the world and shares the same 'house of fragrance' expertise as some of the leading designer fragrances.
More than 8 million guys in the UK use Lynx everyday and almost half of all body wash products sold in the UK are Lynx. Launched in 1995, the Lynx Africa variant with its recognisable green and red colouring and spicy, woody aroma is the most popular body spray fragrance in the UK selling over 20 million units per year. The Africa variant alone would make the top three in the UK's biggest male grooming brands. Edgy marketing campaigns and quintessential Lynx Africa Christmas gift sets have enabled the variant to secure a place in the national psyche.
The new limited-edition range is being released as part of Lynx's 'Hot Since '95' campaign incorporating a TV advert and Twitter takeover. The campaign celebrates 25 years of the much loved Lynx Africa variant and marks the fragrance's success and almost cult like status in the UK. Lynx aims to take Africa fans on a journey back in time to 1995 when the variant was conceived.
Available nationwide, the new limited-edition packaging features key events, figures and cultural moments from 1995 as well as sporting Lynx Africa's iconic colours of red, green and black. For the first time, the celebratory packs will also include a snap code which shoppers can scan to enter a virtual reality of the TV advert, giving them the opportunity to immerse themselves within the campaign through virtual reality portals, filters and lenses.
Supporting the campaign will be a trio of Lynx ambassadors that include two-time heavyweight champion Anthony Joshua along with chart-topper AJ Tracey and YouTube sensation Calfreezy. The £6.5m ATL campaign will feature across TV, video on demand, Out Of Home (OOH), social and in-store to help drive mass reach for the brand and celebrations are set to continue throughout 2020.
Amy Elshenawy, Design Director, PB Creative commented: "Our challenge was to create a celebratory limited-edition range design to sit seamlessly within the full Hot Since '95 25th anniversary communications campaign. We've leveraged this iconic fragrance's past and redefined its future and look forward to collaborating with the Lynx team for the next 25 years!"
Jamie Brooks, Senior Brand Lead, Lynx added: "The limited-edition range that PB Creative has developed is fantastic. Strong in isolation and even more powerful as part of the full campaign. With its legendary status in the UK, Lynx Africa has been one of the nation's favourite fragrances for two and a half decades. From teenage bedrooms and gym locker rooms to Christmas stockings, it's been 'Hot Since '95'. Our campaign and limited-edition packaging range are all about celebrating the role Lynx Africa has played in British culture."The new limited edition range including body spray, body wash and anti-perspirant is now rolling out across stores in the UK market only with a special edition gift set planned for Christmas 2020.
Source: PB Creative