MarComm's Star Parade is a series where we shine the spotlight on some of the global stars from the Marketing and Communications industry, and Charlie Smith is someone who has been shining bright in the design word for over 15 years.
Charlie Smith, Founder and Creative Director of Charlie Smith Design has collaborated with brands including Royal Mail, UNICEF, V&A Museum (Dior, Balenciaga, Alexander McQueen exhibition books), John Lewis, Byron, Piccadilly Vaults and Morrisons. The team combine a passion for design with straight speaking strategy to create beautiful and timeless creative solutions, which continue to serve clients – big and small – year after year.
But don't take our word for it! We'll let Charlie do the talking for herself…
Q) Give us a brief insight into your career so far?
After graduating, I spent three years at Pentagram working for partner Angus Hyland. After that, I spent a year at NB:Studio before taking some time off to travel around South America. When I was about to return nine months later, I didn't have a fully formed strategy. But opportunities have a habit of appearing when you least expect them to. I was still travelling when two jobs came my way. One was to design a website for Jasper Morrison, the other was to work with exhibition curator Judith Clark who I first met during my time at Pentagram. Judith was working on Spectres, an exhibition at the V&A, and asked me to design the exhibition graphics and accompanying book. These were really the beginnings of Charlie Smith Design, it hadn't been an ambition to necessarily set up a studio, but it grew organically.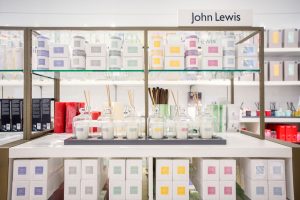 In the beginning I was just working mostly from home on projects as and when they came in. Gradually a couple of bigger ones came in and the pace began to change. Pretty soon I found desk space in a studio shared with an architecture practice and a design studio in Old Street, London. Being around creative teams felt right, and shortly after, John McConnell, then a partner at Pentagram, asked me to join the roster of designers working on own brand packaging for John Lewis. They've remained a client ever since, and became a fundamental element to the growth of my business. By 2011 work had picked up and I had two children. I was back working full time, growing the team and winning bigger projects.

Q) What according to you is the strongest tool in your skill set?
Being versatile is really our strength. Innovation is happening so quickly and it's changing our industry each day, so being flexible and adaptable in the type of work you do and the services you provide can make all the difference. You never know when the next startup is going change the game and require an entirely unique combination of expertise. If you can offer multiple services, this is an attractive and cost-effective proposition.

We also have huge experience and knowledge in working with fabricators, such as printers and signage companies, web developers, but all commissioning illustrators etc. so we oversee that process very closely and guide our clients. By not specialising, it also means we can draw inspiration from so many places and avoid fads – we don't want to be slaves to trends, our work aims to be timeless and contemporary with a long-lasting appeal. Like most agencies, we do have a recognisable style, but we do our best to collaborate often with other creatives to stir up surprising or unexpected points of view.

Q) What is your favourite piece of work that you have created?
I'm especially proud of a number of our projects. Most recently, the Christmas stamps we created for Royal Mail. From start to finish, the whole project summed up how we love to work, collaborating so closely with the client and the husband and wife paper artist duo Hari & Deepti. The work we did with Byron over the years also stands out for me. The projects that get us working with amazing illustrators and artists tend to leave a lasting impression.
Q) What is your favourite piece of work you wish you had done?
So many!Some that come mind are the Ron Mueck book for the exhibition at Foundation Cartier by Studio Dyakova, the Poster series for the English National Opera by Rose Design. I'll always see work by Mucho and Graphic Thought Facility and wish I'd done that – it's beautiful!

Q) Who (if anyone) has been the greatest influence in your career? Probably Angus Hyland during my time at Pentagram. I still felt like I knew so little after graduating, so my time there felt like an apprenticeship – it was a huge learning curve! Angus has influenced the way I view design and the way I work, right down to the typefaces I gravitate towards and love to use.
Q) What would you change about the industry, if you could?
Technology and software development have made design much more accessible – in some ways this is a good thing. But the result is that anyone can think they're a designer. The industry, in its processes and tech, has sped up so much that it seems the craft behind the design process and way of thinking is at risk of being devalued; free pitching devalues the creative process too. A knock-on effect is that people often expect lighting fast turnaround times.

Q) Tell us something that people wouldn't necessarily know about you? I was a water-ski instructor for a few years.

Q) Where would you ideally like to be in your career in the next five-years? The truth is, I love what I'm doing and where I'm at now. Not to be confused with a lack of ambition. What I'm doing now makes me very happy! Coming in to work each day and working with a brilliantly talented team is creatively rewarding. We've got amazing clients and we've created work-life balance we're proud of. Five years from now, we aim to have some new and bigger clients that challenge us creatively and help the team grow organically. I'd love to work with brands that are actively trying to educate people and make a difference. It's the most important consideration that should be at the front of all our minds. Ideally, I'd love to work on identity projects for a hotel, a fashion brand, a shopping centre, a charity, an airline, another new museum, a new restaurant concept and many more!