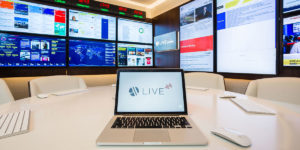 M Live, Marriott International's global marketing real-time command center, was awarded Gold and Silver Creative Data Lions at the Cannes International Festival of Creativity in the categories of Social Data and Use of Real-time Data, respectively.
M Live launched in 2015 at Marriott's Worldwide Headquarters and has since expanded to four locations around the globe. The command center is the touch point across all 30 of Marriott's Brands used to identify pop culture trends and create real-time content directly with guests on social channels. Based on live data and metrics, M Live bridges the digital conversation by leveraging its bespoke location-based social platform to initiate surprise and delight moments with our guests while on-property through geo-fencing technology.
The Cannes Lions winning submission focused on leveraging M Live for its ongoing surprise and delight campaign with the goal of elevating guest experiences while creating lasting and meaningful travel memories. With the help of HYP3R, a Silicon Valley tech start-up specializing in geo-fencing publicly available social conversations, M Live and its Digital Content Producers analyze hundreds of publicly available social posts every hour across Marriott's more than 6,100 properties. M Live filters those geo-tagged social posts on Instagram, Twitter, and Weibo into a properitary UI and gleans those insights to provide surprise and delight moments that are pinpointed and customized to It elicit emotive social responses. MEC then helps Marriott to amplify those targeted social posts.
Through this always-on approach, M Live is not only able to discover moments and engage with customers quickly, but also able to identify opportunities that are distinct for each of Marriott's brands in locations around the globe. An example of such success involved a couple posting about their engagement at the Gaylord Opryland in Nashville on social media. M Live quickly flagged the post via HYP3R, engaging the Gaylord brand and property teams to celebrate the couple with a champagne toast. The result was original content posted by the couple thanking the property for their hospitality.
"We are thrilled to be recognized by Cannes Lions with this cutting edge award that highlights the intersection of creativity and data," said Karin Timpone, Global Marketing Officer, Marriott International. "I want to congratulate Matthew Glick, Senior Director of Global Creative + Content Marketing, for his amazing leadership in this groundbreaking arena, and celebrate his team at our M Live in Bethesda, MD, as well as all of those working in our global M Live centers around the world, for all of their innovative and award-winning work."
Source: Marriott International