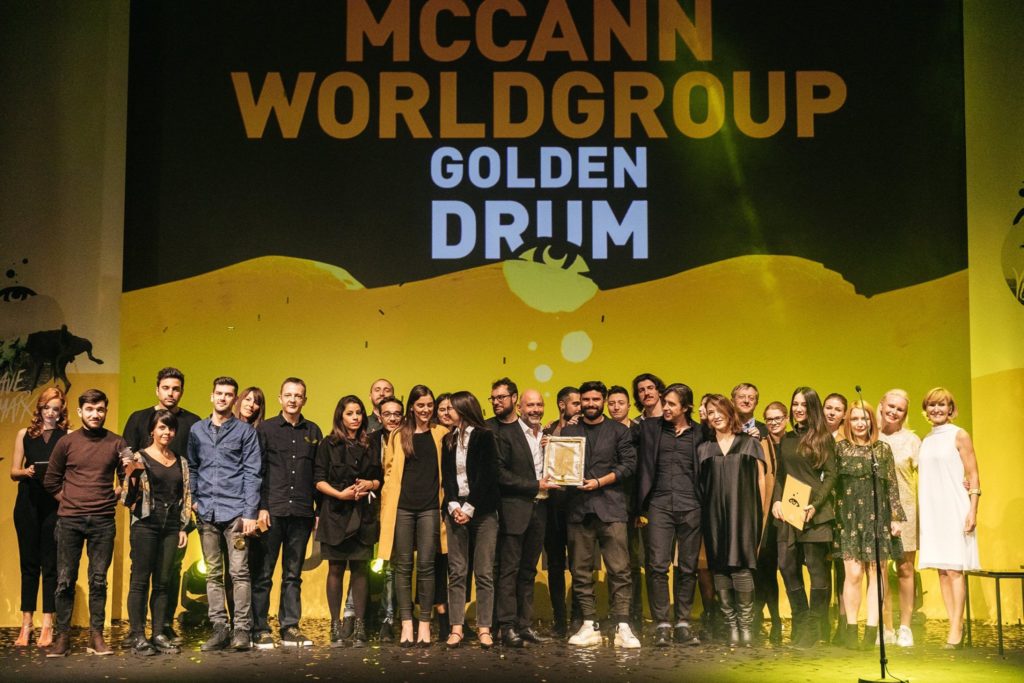 McCann Worldgroup was recognized as "Agency Network of the Year" at the Golden Drum Festival, Central and Eastern Europe's most prestigious advertising festival, for the fourth time in five years. This is the first time in the history of the festival that a network has achieved this accolade this number of times, having previously been awarded in 2013, 2014 and 2016, with McCann Worldgroup Romania being named Agency Of The Year in 2015.
In addition, in 2017, the AGENCY OF THE YEAR title returned to the McCann Worldgroup network, with McCann Milan winning the distinction with 3 different winning campaigns.
The "Agency Network of the Year" honour is the most important award of the festival, given to the agency with the most cumulative winning points for its entries. This year McCann Worldgroup won 3 Grand Prix, 2 Golden Drums, 11 Silver Drums, with a total of 34 shortlists.  The network's 2017 winners came from several countries in the CEE region, for work for a range of leading local and global brands including Vodafone, Beko, Coca-Cola, KFC, Mega Image, Carlsberg, Rom, Ubrew, Museum of Contemporary Art Belgrade, Centro Clinico Nemo.
"The winning formula always comes down to the people. They have the ambition to push their limits. They lose sleep trying to make a great idea better. They struggle to make the campaigns more meaningful for the brands. We are proud to have such a talented creative community in the region and this win is a recognition of their great effort", said Catalin Dobre, CCO McCann Worldgroup Romania.
"To win consistently at these awards is a real testament to our regional strength and creative capability. To win with both our global and local clients consistently, with work that is truly driving their business, is something we should all be very proud of," said John Wright, Regional Officer CEE.
"Being number one is really hard, but there's one thing harder than that: doing it again and again. This was only possible by building an enduring culture and nurturing strong relationships with our clients. We want to thank them for being great partners," said Adrian Botan, Global Executive Director, President Creative Leadership Council.
Source: McCann Worldgroup