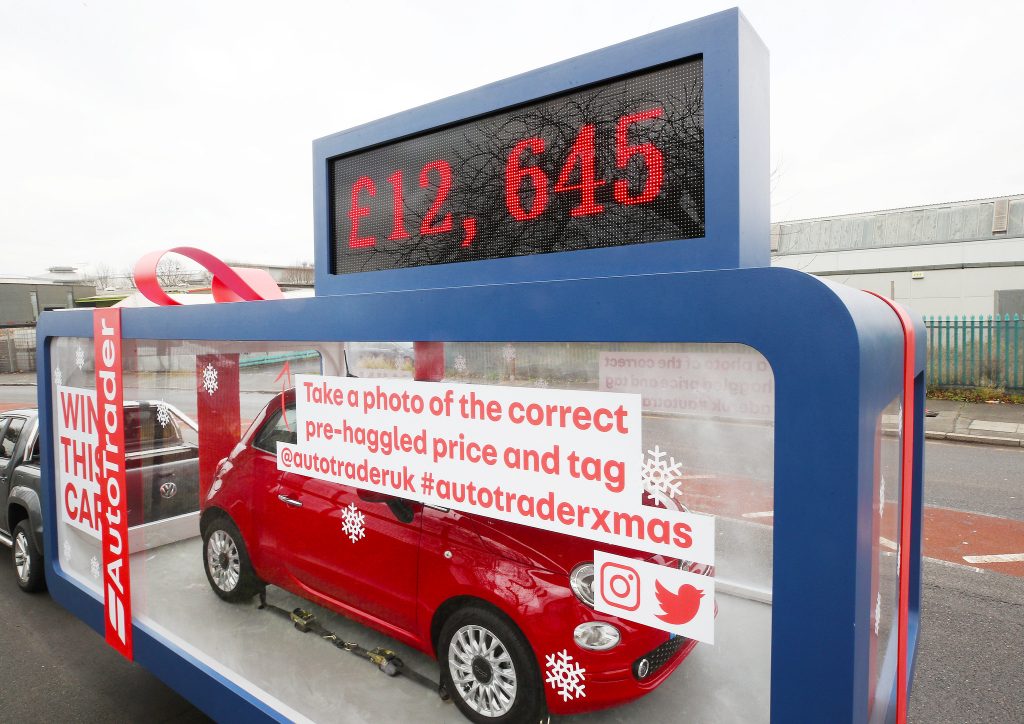 The UK's largest digital marketplace for new and used cars, Auto Trader, is launching a nationwide snap-to-win competition for one lucky member of the public to win a brand-new car this Christmas.

A Fiat 500, which receives over 24,000 ad views a day on Auto Trader, has been gift-wrapped in a box, complete with an Auto Trader live price tracker affixed to it. The car will take to the road, touring London, Birmingham and Manchester between 17th – 19th December.
To be in with a chance of winning the Fiat 500, all members of the public need to do is snap a photo of the Christmas present with the live price tracker when they see it in town, and upload their picture, tagging @autotraderuk #autotraderxmas on Twitter or Instagram, by Friday 20th December. If the price tracker shows the correct pre-haggled price of the car, they'll be entered into a prize draw to win it.
The festively wrapped car, complete with Christmas bow, will be touring the following locations in the run-up to Christmas:

Tuesday 17th December – London, Wednesday 18th December – Birmingham, Thursday 19th December – Manchester

The price tracker on display fluctuates between the RRP of the car and the actual pre-haggled price shown on Auto Trader.
As the country's largest digital marketplace for cars, Auto Trader can exclusively reveal the most popular searched for cars in the country.

The UK's Most Searched For Cars:
VW Golf – 5,593,773
BMW 3 Series – 4,717,524
Mercedes C-Class – 3,675,486
Mercedes E-Class – 2,891,597
BMW 1 Series – 2,881,682
Ford Focus – 2,849,948
Ford Fiesta – 2,842,517
Audi A3 – 2,500,002
BMW 5 Series – 2,487,497
Land Rover Range Rover Sport – 1,747,891
An Auto Trader spokesperson said, "At this time of year, a lot of people are starting to think of their next new car, particularly ahead of March's number plate changes. They're doing their research on different makes and models, so we wanted to show what deals they can get with our pre-haggled prices on brand new cars.
"We're absolutely delighted to be touring our festively-wrapped car around London, Birmingham and Manchester and really looking forward to gifting a member of the British public with an early Christmas present.
"Whether you're out Christmas shopping or going about your normal day, be sure to snap our motor on Instagram or Twitter with the Auto Trader handle and hashtag and the correct pre-haggled price of the Fiat 500!"

The Fiat 500 Lounge on offer in the competition comes complete with a 7″ HD Touchscreen Radio with Bluetooth, USB, Aux-in and DAB, as well as Apple CarPlay/AndroidAuto connectivity and Rear Speakers.

Listings information:

Auto Trader's Festive Car Competition will be touring on the following days:

Tuesday 17th December – London
Wednesday 18th December – Birmingham
Thursday 19th December – Manchester
Drivers can find their brand-new car with Auto Trader, with thousands of cars already onsite at pre-haggled prices.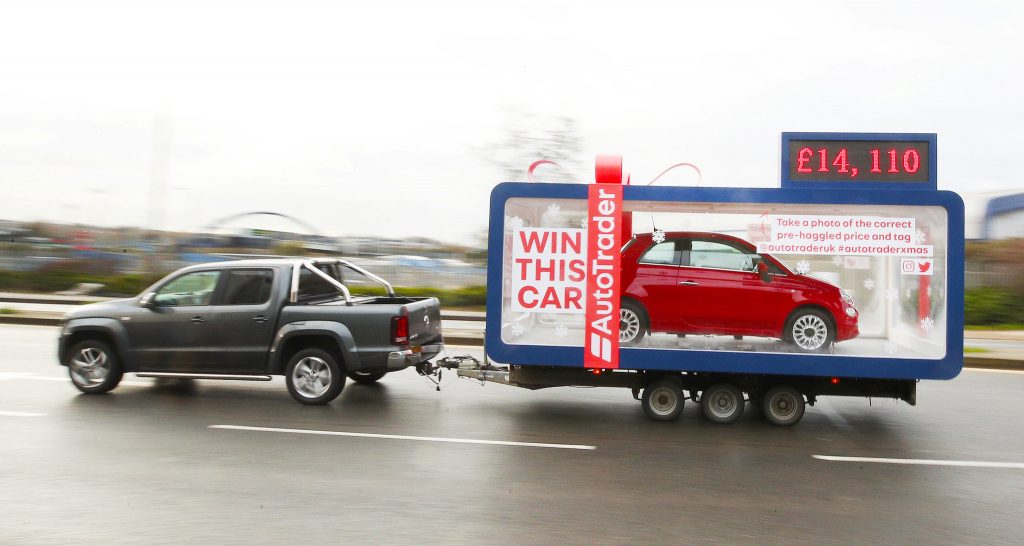 Source: Auto Trader