After winning the account following a global new business pitch, BETC unveils the "Kingdom of Light" campaign with the ambition to support tourism and reveal the infinite beauty of this land. The campaign is an opportunity to value and celebrate the richness of Morocco, especially after a long period marked by a health crisis that impacted the tourism industry in the country.
Famous for its uniqueness, the light in Morocco is an incredible source of inspiration for artists of yesterday and tomorrow, and also a source of movement and energy inspiring all of the senses.
From this light was created the new communication platform "Morocco – Kingdom of Light" that reveals the vast resources that the country has to offer. More than just a country to visit, Morocco is a country that you need to experience through its art, its living culture and its craftsmanship.
To make these resources shine all over the world, and because Morocco is a unique destination, BETC imagined for Visit Morocco a bold campaign that differs from classic tourism communication campaigns. The campaign aims to show a switch in the way that the country portrays itself to give it a new force. To reach a new younger target, in demand of unexpected and discoveries, the production vies to pay homage to the wealth of experiences in the country and express its forward-thinking and modern spirit.
Many Moroccan contemporary artists are included in the campaign as ambassadors of Moroccan's culture, such as Mohammed Melehi (art), Samy Snoussi (painting), Steph H (dance), Artsi Ifrach (stylist), who show modernity while respecting its heritage.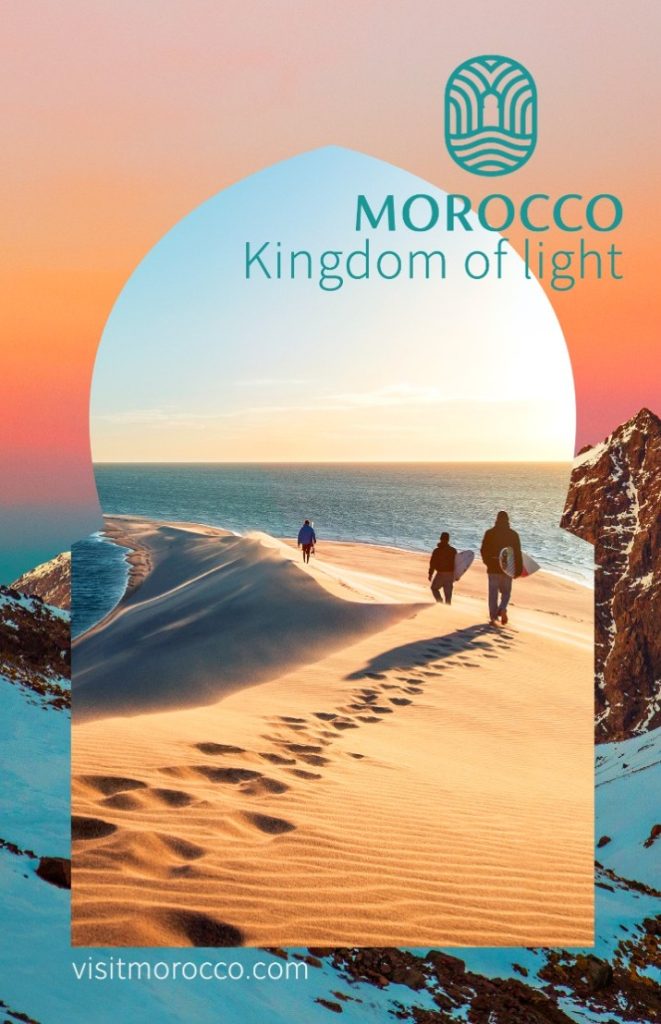 The logo and the visual identity of the new Kingdom of Light platform were conceived by BETC and BETC Design using symbols and colors related to the country. The print campaign showcases the breathtaking landscapes of the Atlas, beaches and craftsmanship with the door as a main focal point of the graphic design. The film was directed by Georgia Hudson, who has collaborated in the past with lifestyle brands (Nike "Stop at nothing" or Zalando "Free to be").
The campaign started on April 22nd in 17 countries around the world.
CREDITS
Campaign: Kingdom of Light
Advertiser: Office National Marocain du Tourisme
Brand Managers: Adel El Fakir, Siham Fettouhi, Fahd Karrakchou, Youssef Alaoui
Ad Agency: BETC
Agency Managers: Jean-Charles Caboche, Mathieu Laugier, Solene Lecomte, Hugo Chavanel, Camille Berthier, Leila Guerbaa
Creative Director: Guillaume Rebbot
Art Director: Damien Bellon
Art Director Assistants: Marie Caron, Julie Agahouni
Music Creative Director: Seril Farran
Strategy Planners: Adrien Fortabat, Timothee Belanger, Martin Lagache
Traffic Manager: Anne Guillaume
Art Buyers: Isabelle Mocq, Laura Ramalho
TV Producer: David Green
Production Company: Solab
Director: Georgia Hudson
Sound Company: Plouf
Source: BETC