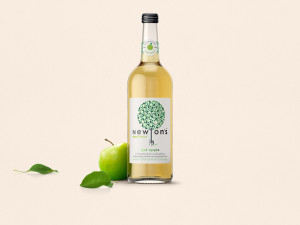 Brand design agency Parker Williams has designed the branding and packaging for Newton's appl fizzics, a new, natural sparkling apple juice drink.
The first product, 'just apple', a blend of apple juice and lightly sparkling water, features several subtle references to celebrated physicist Sir Isaac Newton. A lower sugar alternative to juices and regular soft drinks, Newton's appl fizzics is available in-store in Harrods, in a growing number of bars, restaurants, cafés and delis and a variety of stockists online.
Parker Williams' cheerful, simple design plays on the story of Sir Isaac Newton and the apple. Neatly integrating the "t" of Newton's logotype within the shimmering foil leaves above, the reclining letter leads into the tree brandmark that symbolises Newton's creative inspiration. Using scripted type and a tactile paper substrate, Parker Williams also brings an element of craft and sophistication to the packs.
Entirely natural, with no artificial ingredients, preservatives or added sugar, the juice and sparkling water blend contains 40% less sugar than regular apple juice. Along with the gravity-referencing "fizzics" pun, Newton's has dropped the "e" from "apple" to show that the drink is free of E numbers.
Jo Saker, creative director at Parker Williams, said: "Newton's appl fizzics has a brilliant brand proposition so we really wanted to make it stand out. Giving the brand's namesake, Sir Isaac Newton, pride of place, our design for Newton's appl fizzics is a fun homage to creativity and intelligence. We can't wait to see how shoppers respond in-store."
Chris Banks, founder of Newton's appl fizzicz, said: "The team at Parker Williams were outstanding in all regards. The work we did together on strategy and planning was invaluable in helping us hone and express the essence of our brand. We were delighted with the work; the design, the creativity, the wit, the quirkiness and the quality. It is so clever to capture the entire brand story in one frame."