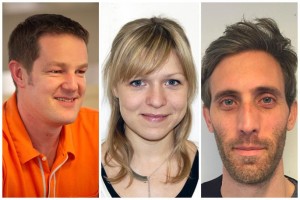 OLIVER Group announced three new senior promotions with immediate effect as it expands its unique experience planning discipline: Mark Bell to chief experience officer for OLIVER Group, and John Gibbard and Roz Thomas to co-heads of experience planning at digital agency DARE.
Mark Bell was previously planning partner at DARE, responsible for the agency's strategic output. Prior to this relatively new appointment he created the discipline of experience planning, leading a team ranging from psychologists to toy designers to help brands join up and create ever more effective customer experiences.
His new appointment as chief experience officer will give him the opportunity to take the experience planning approach to the entire OLIVER Group. It will now be equipped to help all its clients effectively transform and connect the entire customer experience. Bell, who was head of UX at LBi before joining DARE in 2005, will report into David Russell, director at the agency.
John Gibbard and Roz Thomas, the new co-heads of experience planning at DARE, will help the agency's existing client base to benefit from the experience and service they have given in leading experience planning for innovative brands such as EE, Investec, Barclays and The Foundry.
They have more than 13 years' combined experience at DARE and will build on the success Mark Bell achieved in developing the market-leading discipline. With backgrounds in industrial design, financial services, digital user experience and psychology, this new leadership team will be tasked with developing the experience planning proposition to include in-store and physical environments as they benefit from the increased remit DARE now has as part of the OLIVER Group.
Thomas has been creating commercially effective and desirable experiences for over 13 years, including the digital transformation of EE, helping Premier Inn customers quickly and easily book themselves a room from a mobile device and helping Sainsbury's customers find meal inspiration to suit their budget on the Live Well for Less site.
Gibbard has been designing customer experiences for fifteen years, working in UX at Aviva before he joined DARE in 2008. A specialist in the translation of complex business and user requirements, John balances business interests, content, technical capabilities and the motivations and behaviours of users, working with brands like The Foundry and BMW.
David Russell, director at OLIVER Group, said: "The experience planning approach pioneered by DARE offers brands a new way to define, design and create even more effective and memorable customer experiences. The senior team behind it are as unique, creative and perceptive as the process they've developed.
"Mark will now bring his expertise in this market-leading discipline to the entire OLIVER Group, while Roz and John will be the guardians of experience planning at the agency where it was born. Brands still have a lot to do to improve the customer experience across all their various touch points, and a focus on experience planning across the Group as a whole will help our clients build new, robust and fun ways to delight and enthral their customers."
Bell added: "This new role is a fantastic opportunity to build on the success of OLIVER Group. We are aiming to consistently deliver work that has a real influence on customer experience and our clients' marketing efforts."