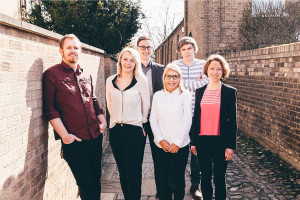 Omobono has seen a 20% YOY growth with overseas sales now accounting for over 60% of total turnover; this is thanks to new business wins and the launching of its first London office at the end of 2015.
This was the second opening for Omobono in 2015, following its first US office in the heart of Chicago's business district, demonstrating the agency's growth into new territories and ambitions to meet the demands that businesses have for digital marketing. The agency has also expanded its offices in Cambridge, enabling more people to be in the same place so they can work collaboratively in a creative environment.
Joining the team will be: Daniel Kaye, Business Development & Marketing Manager; Tim Harding, Art Director; Alex Chambers, Senior Project Manager; Charlotte Fitzgerald, Senior Project Manager; Laura Webb, Strategist and Pia Walton, Marketing Executive.
Previously at Conran Design Group, Kaye will work with the team to deliver a relevant and engaging programme of smart, educational, and entertaining content and activity. Both Fitzgerald and Chambers will help Kaye with business development, through the delivery of client projects and working on new business generation. Harding will bring creative ideas to Omobono, helping to open up a dialogue and grow the client's brand.
Daniel Kaye, Business Development & Marketing Manager at Omobono, commented: "It's great to be joining the team at Omobono, especially with the agency going through such an exciting time. The agency has always produced really original and creative work for some of the world's most respected companies and I'm looking forward to working with a talented team to continue to deliver these results and hopefully win some more great clients along the way too!"
Francesca Brosan, ‎Chairman & Founder of Omobono, said: "Omobono continues to expand quickly and I'm thrilled to welcome this new intake – six brilliantly creative and business minded people to join the team. Our ambition is always to hire people better than us and all six more than fit the bill."