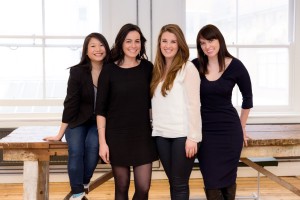 Omobono London has announced the appointment of four new team members, highlighting the agency's progressive growth following its launch last year.
Joining the London team will be: Melanie Giles, Senior Strategist; Ying Mak, Strategist; Jo Coles, Client Director and Jessica Brunt, Project Manager.
Coming from a senior (EMEA) role across internal and external communications for Rabobank, Giles will be responsible for strategy, planning and insight for the London clients, including JLL, The Crown Estate and Condeco.
Mak will work alongside Giles and the wider strategy team, bringing her marketing automation background to the fore by supporting a range of clients with planning and management of joined-up digital marketing campaigns. She previously worked in similar roles for a number of businesses, including Sony.
Coles will head up the account and project management teams for Omobono London. She will be responsible for owning all key client relationships, ensuring the quality of delivery and deliverables are second to none. Coles joins Omobono having previously been Head of Clients services at MSLGROUP, whose clients include Sainsbury's, BMW and Netflix.
Brunt will be working as a project manager alongside Coles and the wider London team, helping to ensure the great delivery of projects. Having previously worked at Omobono headquarters in Cambridge, Brunt will be bringing the background and culture of the company to the London team.
Omobono launched its London office at the end of 2015. This was the second opening in 2015, following its first US office in the heart of Chicago's business district, demonstrating the agency's ambitions to grow into new territories and meet the demands of businesses increased requirement for digital marketing.
Alex Luff, Managing Director at Omobono, said: "I'm delighted that we've secured four brilliantly creative, commercially minded people to join the Omobono London team in recent weeks. All four will bring a wealth of experience, bolster our marketing automation capability and provide our clients with world class delivery across the digital communications landscape."
Melanie Giles, Senior Strategist at Omobono, commented: "I'm thrilled to be part of the team at Omobono. The agency has an impressive track record of original and creative work for some of the world's most respected companies and I'm looking forward to working with the team to build on that. I've seen some of the fantastic briefs and campaigns I'll be working on and am really looking forward to meeting the wider team and fully immersing myself in life at the Saint!"