Today, Impero announces its latest campaign for global fashion and fragrance house Paco Rabanne to support up and coming artists in 'A Million Ways To Make It'.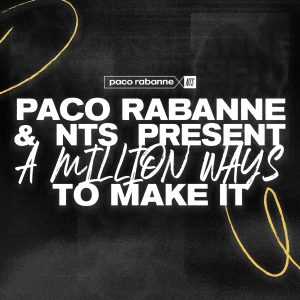 The campaign promotes Paco Rabanne's fund that aims to provide new independent musicians with financial support and mentorship from industry experts,and celebrates the hustle and dedication required to make it in the industry. It comes off the back of the success of last year's campaign My First Million which was set up originally in response to the impact that COVID19 had on the UK music scene. The fund will start considering applications in July and can provide up to £5000 worth of funding.
Leading up to the launch of the fund, Paco Rabanne and partners NTS will host a series of radio shows and intimate London performances throughout May and June, featuring a diverse range of industry stars from across the UK. These events will be free to the public and will showcase recipients of the 2021 Paco Rabanne fund: HarleighBlu, anaiis and Mom Tudie who have spent their fund money on equipment, travel to various destinations to meet partners and record albums amongst other things.
Impero began the campaign with media interviews highlighting the experiences of previous beneficiaries of the 2021 fund in Notion Magazine, as well as launching a dedicated hub on NTS.com, housing the content in the build up to the opening of the fund.
Impero looked to highlight the positive role Paco Rabanne is playing in facilitating young musicians and bring attention to the evolution of the campaign in its second year to include practical mentoring with NTS, under the creative and strategic guidance of the agency.
Commenting on the launch, Charlotte Willcocks, Head of Strategy at Impero, said: "We are delighted to be able to play such an integral role in a campaign that is helping support so many up and coming artists.
"After the success of the 2021 campaign we were dedicated to ensuring that we built upon its great success, and provided the strategic and creative expertise to maximise the potential of the fund in 2022.
We wanted to ensure we increased the physical visibility of the campaign and the cultural aspects it incorporates by adding in real life events now that we can. We are committed to being an active contributor to the UK music scene and are excited for the talent this campaign will uncover."
Celine Gilg, Managing Director at Puig, added: "We are thrilled to continue our strong relationship with Impero, and are delighted to finally kick off the campaign for its 2022 iteration.
After the success of last year's fund, we were keen to develop its offering to include practical mentoring from established industry professionals. Impero has helped facilitate this, promoting the Paco Rabanne brand across a range of platforms to ensure people experience a deeper musical connection."
"We look forward to the events coming up in the future months and would love to see as many up-and-coming music artists benefit from the fund."
Source: Impero