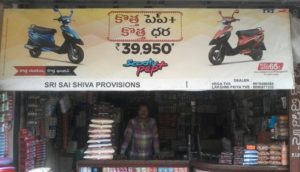 Brand Street India, leading integrated marketing agency, announced a win on the outdoor marketing campaign mandate from TVS Motor Company.
The retail division of the brand, Retail Story will be responsible to create awareness about the brand in Tier 2/3 cities of South India. In this sales lead awareness campaign, Retail Story will identify and deploy branding materials across 4000 Kirana shops in states of Maharashtra, Orissa and Andhra Pradesh.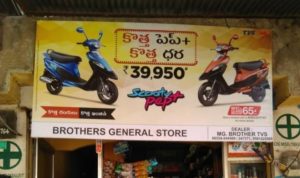 TVS, is mainly planning to influence and attract housewives and female students from tier 2 and 3 cities as they form a good portion of its Target Audience. TVS plans to strengthen its presence with its campaign in Kirana stores. TVS Motor Company  occupies no 2 position  with 12.87 percent shares in terms of scooters sales.
Surendra Singh, National Head, Brand Street India,  said, "We are absolutely delighted to win this volume led business from TVS Motor Company. We have been working with TVS in similar capacity since a few months and post which the brand has decided to scale the operations and hand over the duties to us. We hope through this campaign we will touch a new zenith in the area of retail branding."

Commenting on the win, Rajinikanth, Brand Street India's Business Head (South), said, "It is a matter of great pride to win this strong business from the brand. We now have a bigger responsibility to manage this vast campaign in the same smooth manner like we executed the pilot campaign. We hope to form a partnership with TVS that will result in a better associations and a better connect with customers."
Source: Brand Street India