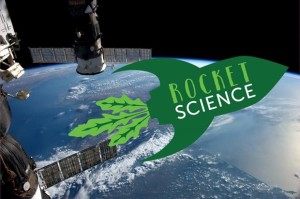 The Royal Horticultural Society has partnered with the UK Space Agency to send rocket seeds into space with British astronaut Tim Peake.
Two kilograms of rocket seeds have been sent to the International Space Station in the Soyus spacecraft, where they will stay for six months, before being returned to the UK for planting and research by British school children as part of their curriculum.
The RHS plans to research how gravity affects the seeds and impacts on their growth. The project, called Rocket Science, aims to capture kids' imagination and get them interested in horticulture by allowing up to 10,000 schools the chance to grow the seeds and compare them with those that have remained on Earth.
The brand identity and all the communications for Rocket Science was devised and created by design agency Material_Works.
Material_Works designed the branding for Rocket Science to appeal to school kids of all ages, from primary to secondary school. The agency also created the supporting advertising collateral, school packs and experiential work in conjunction with its sister agency Material_UK for the initial launch of the project at the Chelsea Flower Show in May 2015.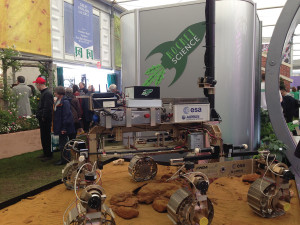 The agency has worked closely with the RHS and the UK Space Agency to ensure that the campaign will continue throughout 2016.
Claire Custance, RHS Skills Development Manager, said: "As you can imagine turning 10,000 school children into space biologists has been the project of a lifetime for RHS and something we have been hugely excited about. We really wanted an agency to work with us on this project that shared both our excitement and our passion and who could create an identity and campaign which would appeal to children across the country. Through their creativity in design and their experiential execution, Material has really brought to life the Rocket Science campaign for us in ways we couldn't imagine."
Paul McCluskey, Senior Designer, Material_Works, said: "I can't imagine there are many agencies who have had the opportunity to send one of their designs into space, so we were absolutely over the moon to work with RHS and UK Space Agency on this project. From designing the identity which is accompanying Tim Peake in outer space to creating a fully interactive space experience at the Chelsea Flower show, the whole experience has been out of this world."