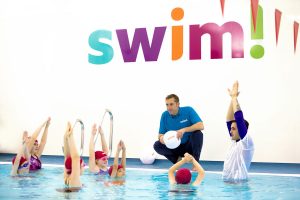 swim! has appointed Mercieca as its integrated creative agency following a competitive pitch.
Founded by ex-Olympic and Commonwealth Games swimmers Steve Parry and Adrian Turner, swim!  tasked the Camden based agency to create a brand identity for child only swimming centres across the UK. A new destination where kids can be taught to swim using the best in class techniques crafted by Steve and Adrian.
swim! Founder Steve Parry said: "Our ambition is to challenge an issue of epidemic proportion, that currently in the UK only one in two children are able to swim by the time they go to secondary school."
Mercieca worked closely with Steve and his team to create swim!, a brand like no other, with the vision to deliver innovative family first environments that redefine the way children in the UK learn to swim.
Utilising the agency's unique experience in grassroots sports, branding and design, Mercieca created a brand that comes to life at every touch point; from the design of the building, interiors, logos and tone-of-voice; to PR and marketing collateral.
The first swim! centre opened in Warrington at the end of 2017, with the ambition to open a further five locations over the next few years. And those ambitions appear to be well founded, because over 500 people signed up pre-launch – smashing the initial target by a massive 50%.
Continues Steve, "We have a huge challenge ahead of us, but the brand and identity that Mercieca has created left us open mouthed from the moment we saw it. The passion, talent and care from the team on this project has been brilliant from start to finish, and we're going to market with a proposition which will hopefully encourage children and parents back into the pool with the best teachers, delivering a unique swimming experience that offers lasting memories."
Mercieca Director Gemma Oakes adds: "From the beginning this has been a project that has been hugely important to us. As a team we all had memories of our own swimming experiences as children, and were shocked to see stats showing such a high number of children in the UK can't swim – an important life skill. We're over the moon with the direction that we've taken the brand in and look forward to supporting swim! as they expand over the coming months and years."
Source: Mercieca