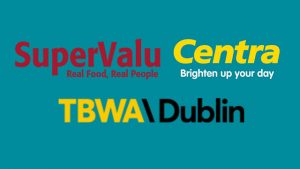 Following a highly competitive four-way pitch process, TBWA\Dublin, The Disruption Company, has been appointed by Musgrave Group to handle Ireland's largest retail account, SuperValu and Centra.
Musgrave Group, the nation's leading grocery retail and wholesale company, has enlisted TBWA\Dublin to handle all aspects of Supervalu and Centra's advertising across Ireland, following a six-week pitch process. With the latest account win, the agency continues to strengthen its client roster, which includes Electric Ireland, ESB, Jameson Irish Whiskey, Bank of Ireland, BMW & Mini, Department of Taoiseach and the Health Service Executive to name but a few.
Discussing the appointment, SuperValu and Centra Marketing Director Des O'Mahony comments: "We are very excited to partner with TBWA\Dublin and look forward to developing our leading SuperValu and Centra brands to further inspire and engage our customers. The creativity and focus that TBWA\Dublin demonstrated through the pitch process gives us great confidence in the mutual success of our partnership."
Reflecting on the win, TBWA\Dublin CEO Deirdre Waldron says: "2017 saw us launch our Refounders philosophy and strengthen our market offering across the agency. It culminated in a focused, creative and collaborative pitch to Musgrave."
"There's been something of a creative transformation in the agency, one that gives us a different voice and approach, and ultimately, that's what clients, both existing and new, are looking for. It's a huge win, one we're very proud of and comes on the back of great thinking, a disruptive approach and top-class creative," adds Waldron.
Since its inception in 1992, TBWA\Dublin has earned a fierce reputation for strategic insight and creative excellence. It welcomed a new chapter in the company's development in 2017 when it rebranded to better reflect the 'Refounders' culture at the heart of the agency. The new name acknowledged the process of creative transformation that has characterised the company's continuous evolution since its beginnings.
Source: TBWA\Dublin