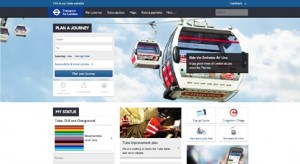 Transport for London is set to roll out a new website design, which is currently in beta.
The new site design is set to launch in early autumn, depending on feedback and changes needed.
TfL says the new site design aims to make it easier for users to plan journeys and check the status of transport.
The Journey Planner will remember recent journeys and the status board will be customised to show the most-used services.
Mobile users will be able to use geo-location to plan journeys and prepare for disruptions.
The site will also feature all TfL's open data, which will be made available for developers to use in their own software or services.
While TfL has been making this data available for some time, a spokesman says the new site design will aim to 'bring it to the fore'.
TfL says the new site was developed by an in-house design team, working with a series of consultancies including Detica and We Are Experience, which worked on front-end design.