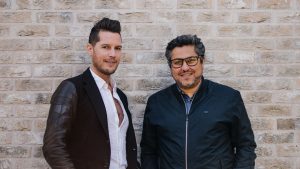 David Frymann is joining The Beyond Collective, where he will launch the independent micro-network's new strategic growth consultancy, Frontier.
Frontier will help brands grow their unfair share of the future, through simple and imaginative strategies designed to turn disengaged audiences into avid consumers. Separately, Frontier will also power the cross-discipline strategic capabilities of the other companies within The Beyond Collective, creative agency Above+Beyond and media agency, Yonder.
Frymann assumes the role of Strategy Partner at Frontier. He joins from McCann London where he has held the position of Planning Partner, working across Godiva, Premier Foods and L'Oreal, picking up a Clio, a Jay Chiat, a Global Effie and an IPA Award during his time there.
Starting his career at TBWA, Frymann worked on Nissan, turning complex data into meaningful opportunities for dealerships across the UK, and on Cannes & D&AD award winning campaigns for John Smiths, adidas and Skittles, before moving to Y&R to work on Marks & Spencer, where he created the CSR platform Spark Something Good, which was campaign of the year at the PR Week Awards.
CEO of The Beyond Collective, Zaid Al-Zaidy, has worked with Frymann at both TBWA and McCann.
Al-Zaidy said, "In today's million channel, adtech-this-and-adtech-that world, a brand's path to growth is the most complicated it's ever been. Frontier exists to provide clients with simple strategic frameworks for growth, with audiences at its heart."
Frymann said, "Frontier is an irresistible opportunity to combine nearly 20 years of planning experience with the learnings from growing my own footwear business, FURY, from scratch. I have learned that for strategy to realize its full commercial potential, it must be genuinely audience-centric and agenda-free and able to operate without the shackles of a traditional agency structure. Frontier seeks to break new ground, and I couldn't be more excited."
Source:Â The Beyond Collective