B2B specialist AdTech PR agency awarded TITAN PR Team of the Year, Female Executive of the Year and appears in both PRovoke UK and Global fastest growing agencies list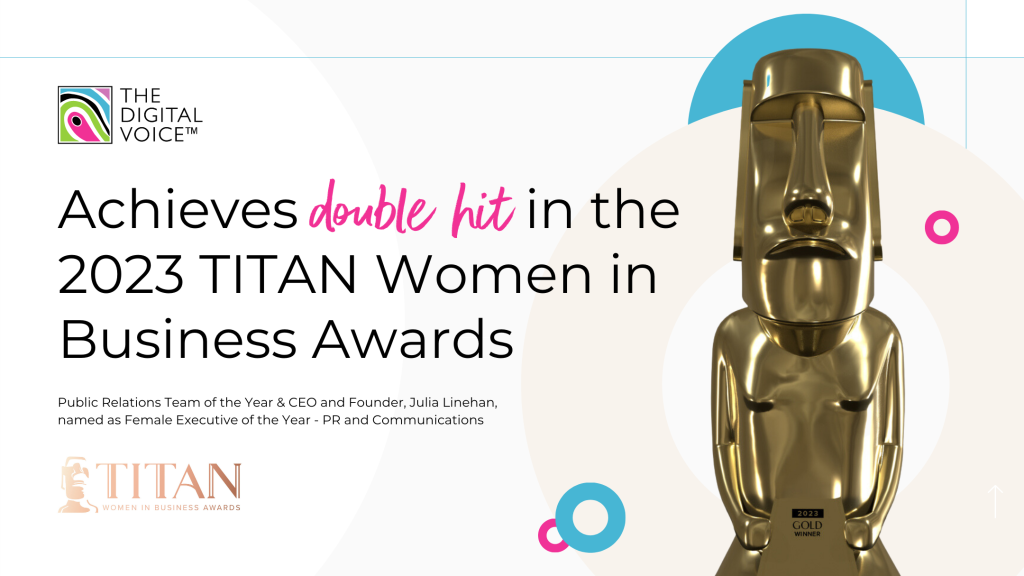 The International Awards Associate (IAA) and the TITAN Women In Business Awards have made a resounding impact on the global business landscape as they wrap up the first season for 2023. This esteemed competition has captured the attention of the international community with hundreds of exceptional entries from more than 25 countries worldwide, including the United States, Australia, the United Kingdom, Portugal, Canada, China, and many others.
After reviewing numerous entries, the competition judged The Digital Voice™ entry to be deserving of the Gold TITAN award for Public Relations Team of the Year and also named CEO and Founder, Julia Linehan, Female Executive of the Year – PR and Communications.
The Digital Voice™ is a B2B AdTech PR agency which has massively expanded in the last 18 months, growing revenues by 154% and doubling the team to 30. It specialises in adtech and martech companies ranging from startups to those heading for IPO.
"We are off the chart proud of this double win! We are an offbeat, playful, and bold PR agency where expertise, team spirit, and creative freedom collide and I am so honoured to work with so many exceptional people every day. Every one of our 30 team and all our 15 client partners make The Digital Voice a success; this award is testament to their exceptional work," says CEO and Founder, The Digital Voice™, Julia Linehan. "To also receive the Female Executive of the Year award was the icing on the cake. I founded The Digital Voice™ 11 years ago and as a female founder, I was a rarity then. I now see more and more women having the confidence to lead from the front and I will always strive to encourage women to be bold, leap and lead."
The TITAN Women In Business Awards honours and celebrates all who are making a significant impact in various industries and professions, while recognising the outstanding achievements of women, from accomplished executives to rising entrepreneurs, who demonstrate exceptional innovation, excellence, and leadership in their respective fields.
"IAA takes great pride in providing a platform for outstanding entrepreneurs and businesses to showcase their exceptional work and be recognised for their excellence in the industry," said Thomas Brandt, spokesperson of IAA. "We extend our heartfelt congratulations to the winners and commend them for demonstrating the highest standards of business excellence even when in the presence of our respected jurors."
The Digital Voice™ was then also named 7th in the global Fast Movers list from PRovoke Media, ranking 2nd in the UK's fastest growing agencies based on fee income for the past year. 
Source: The Digital Voice™