Babies are undoubtedly at their happiest when cradled constantly in the arms of their Mummy or Daddy. Unfortunately, some day-to-day activities don't lend themselves to being carried out with a baby under one arm – cooking, for example.
Which is precisely why Serviceplan Campaign has joined forces with HiPP to design the Onehand-Cookbook, containing healthy and delicious recipes for parents. These can be prepared quickly and simply with just one hand using a jar of HiPP baby food as their starting point.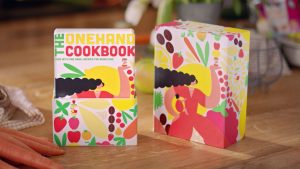 The Onehand-Cookbook is beautifully illustrated by Ana Jaks with retro-style images inspired by the original HiPP logo of the 1970s. 
Matthias Harbeck, CCO Serviceplan Germany, explains the basic principles: "The cookbook contains 16 lovingly designed and beautifully illustrated recipes. Ana Jaks was responsible for the vibrant, colourful illustrations, inspired by the HiPP logo that originated in New York back in the 1970s. And there's also the special Onehand-Cuttingboard, which makes actions like chopping, peeling, piercing or opening a HiPP jar possible with just one hand. It also acts as a recipe card holder."
HiPP's Onehand-Cookbook is intended for multi-tasking parents. All the recipes developed by Claus Hipp are based on HiPP jars full of the best quality organic ingredients.
Simply by using these jars, parents can save several steps in the food preparation process, such as chopping, blending or steaming. The recipes also make use of fresh ingredients to provide delicious, balanced meals that can be prepared in a matter of moments.
Source: Serviceplan