Three customers travelling from the UK can now holiday like a VIP and experience a stress-free journey by upgrading to easyJet Hands Free for free. This new customer perk allows you to check in your cabin bag at the desk, benefit from preferential boarding, and be amongst the first to collect your bags on arrival.
To celebrate this exciting partnership, Three has unveiled a sun-drenched above-the-line (ATL) campaign that communicates all the new travel benefits with the return of the much-loved Giraffamingo – part giraffe, part flamingo.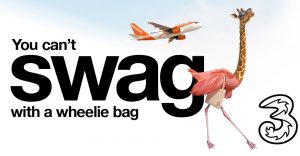 Set to a soundtrack of Sofia Reyes' summer banger "123", featuring Jason Derulo and De La Ghetto, Giraffamingo is seen strutting its way seamlessly through an airport, joyously making the most of the easyJet Hands Free offer.
Giraffamingo is the living embodiment of the feeling Three customers experience as they swagger through the airport Hands Free before being able to then use their phone abroad in up to 71 countries worldwide at no extra cost.
The advert was created by W+K London and The Mill, directed by Jorge Montiel and premiered on August 1, 2018. Media planning was implemented by Mindshare, with highlight spots on launch night including Live Well For Less (Channel 4, 20:30) and Britain's Busiest Airport – Heathrow (ITV, 23:05) and further slots confirmed for ITV2's Coming in America(August 2, 22:20) and E4's The Big Bang Theory (August 3, 18:40).
Following an initial press announcement led by W Communications, a full ATL campaign, including a TV ad as well as out-of-home (OOH) and digital advertising placement, launched today nationwide. Social content and strategy is being executed by Gravity Road. Further in-store rebranding and interactive activations are being rolled out across the estate, to help communicate the benefits of Three's latest partnership to its consumers.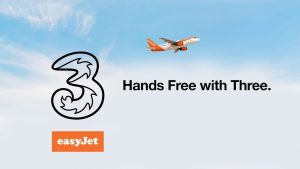 Shadi Halliwell, chief marketing officer, Three UK, said: "With a world full of international adventures to be had, we want to make it easier than ever for our customers to travel with ease, stay connected and share their experiences, no matter where they are. Our new partnership with easyJet is an innovative collaboration between mobile and travel and who better to bring this to life for our customers than the popular Giraffamingo. This campaign is a further extension of our Go Roam offering and extends the benefits of being with Three way beyond our 71 worldwide destinations."
In addition to the the TV commercial and out of home advertising, Three is also extending the new partnership in-store with bespoke branding and tailor-made, immersive retail activations. Playing heavily on the sights and sounds of the airport and holiday experience the stores have been kitted-out to transport customers into a realm of stress-free, swagger-laced, travel.
The retail activations have been rolled out nationwide to 330 stores and include elevated executions in Manchester Arndale, Stratford Westfield, Bristol Broadmead and Liverpool One delivered by Whiteghyll.

The Manchester Arndale store features an impressive 10 metre long aeroplane built in Foamex, complete with flashing landing and tail lights using a series of button LEDs. An audio system completes the immersive installation, creating an extra sense of theatre using a whispering window technique. Passers-by are filled with the delights of holiday anticipation in the departure lounge as they hear the sounds of pilot announcements and aeroplanes taking off and landing.
Three users can claim their Hands Free perk by texting UPGRADE, along with their flight number, date of travel and last name to 88555 to receive their unique redemption voucher. Each voucher will allow users the opportunity to travel Hands Free on their outbound journey from the UK.
Source: W+K London