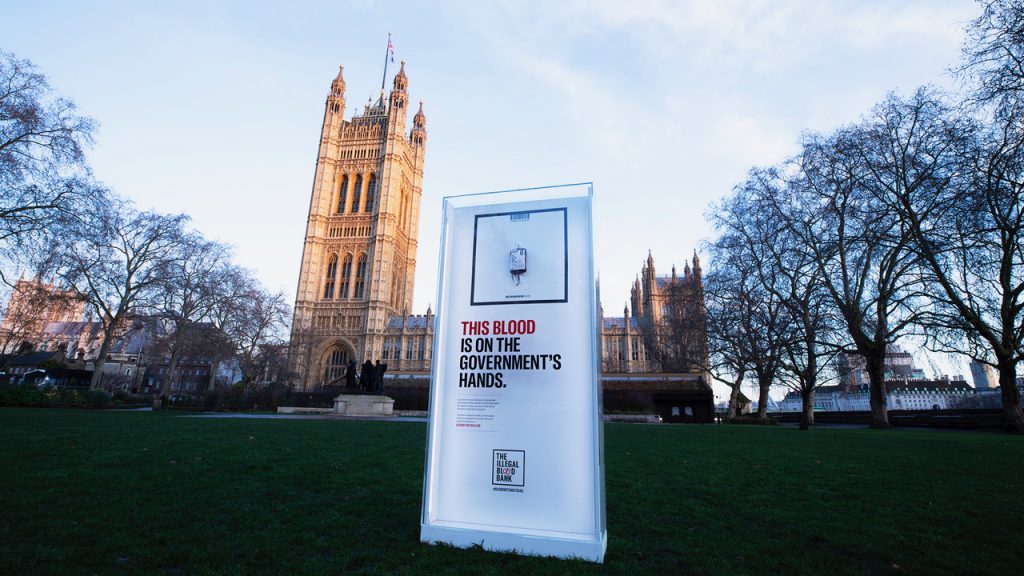 UNILAD is exhibiting real blood in Central London, as it calls on the newly-elected government to change discriminatory blood donation policies currently in place. This out-of-home campaign is the second phase of its #BloodWithoutBias initiative, developed in partnership with FreedomToDonate and creative agency ELVIS.
The blood exhibited was donated by gay and bisexual men at UNILAD's Illegal Blood Bank on 23rd November 2019 as a display of defiance against the three-month deferral period. This policy restricts sexually active gay and bisexual men from donating unless they abstain from sex for three months.
Instead, UNILAD and FreedomToDonate's Illegal Blood Bank assessed donors on individual factors and behaviours which impact risk, such as whether they'd had a new partner in the last three months. This system enabled the organisations to identify safe donors, using a fairer system, which assess all potential donors equally based on their behaviour.
All blood taken at The Illegal Blood Bank was tested at an approved facility by qualified medical professionals and 100% of the blood was deemed perfectly safe to use.
The healthy blood, which cannot be used to save lives due to the existing policy, will be displayed outside parliament, Piccadilly Circus and Oxford Street amongst other locations, between 8am and 6pm on Wednesday 18th December 2019.
With the NHS requiring 135,000 new donors each year to replace those who stop donating and donations notoriously dropping around Christmas time, the #BloodWithoutBias campaign highlights how an alternative method could be used to identify thousands of eligible MSM donors, and shines a light on the potential appetite from the MSM community to donate and help save lives.
Gay and bisexual men pledged more than 3,400 digital pints to show they would donate blood if they could.
The NHS reacted to the campaign with an official statement, insisting it is testing individualised risk assessments. However, now the government has been confirmed, UNILAD and FreedomToDonate are calling for ministers to commit to reviewing the policy as a priority, so new donors who are safe to donate are able to, in order to ensure the NHS receives the safe supply of blood it needs.
Intent on raising awareness of the issue more broadly, UNILAD has achieved 4.8million impressions across owned channels.
Further to this, more than 60,000 people have signed the Change.org petition to show they support the change in policy which could potentially bring new, safe donors into the system.
Copy in the out-of-home ads reads: This blood is on the Government's hands. Gay and bi men are currently banned from giving blood – unless they are willing to abstain from sex for three months. We collected it anyway and tested it to show that the Government is ignoring life-saving blood. This blood was donated in protest, but the thousands of other pints pledged don't have to be. Help us end donation discrimination at bloodwithoutbias.com
Nick Hodgkins, Brand Marketing Lead, LADbible Group, said: "We believe it's our responsibility to leverage our social reach to raise awareness about the issues that matter to young people. With the government maintaining power, we need to ensure the support and passion people showed for The Illegal Blood Bank didn't go to waste and that the government continues to hear us calling for change. We want to help achieve equality in the blood donation system, where anyone who can safely donate blood is able to do so, and pave the way for blood without bias across the board."
Ethan Spibey, Founder, FreedomToDonate, said: "The response we received to The Illegal Blood Bank was amazing, and UNILAD and ELVIS were instrumental in helping us bring our message to the masses. It's of paramount importance that we ensure blood is safe for transmission and we're now one step closer to demonstrating there's alternative models which can help to identify eligible blood donors from all communities."
Tanya Brookfield, CEO, ELVIS, commented: "As a business, we are committed to championing diversity, inclusivity and representation in our industry, and in society. UNILAD is an incredible platform which offers us the opportunity to genuinely mxake a difference, at scale. This engagement is the single most important social cause-driven project that we have ever had the honour of working on."
Rob Griffiths, Associate Creative Director, ELVIS, commented: "We couldn't bear to see the donors' blood go to complete waste and were determined to do their protest justice by using it to make a statement that the government can't ignore. The challenge in that, is that in reality an individual pint of blood doesn't have much visual presence. The perspex monoliths we've created work hard to give the blood the physical presence it deserves, whilst respecting what is in truth, a shocking waste of a perfectly safe pint of blood."
To support, the MSM community can 'pledge a pint' at www.bloodwithoutbias.com and allies of the cause, regardless of gender or sexual orientation, can show their support by using #BloodWithoutBias or signing the petition.
This second activation will harness UNILAD's global audience of over 430 million, including its 44 million Facebook followers, and will also include paid social and PR.
The initiative is the first campaign that LADbible Group has launched since acquiring UNILAD in October 2018, in line with its ongoing drive to use its influence for good.
All donors at the Illegal Blood Bank agreed to their blood being displayed and the blood will be disposed of in line with medical guidelines.
Owned by LADbible group, UNILAD provides news and entertainment with a 'social-first' approach. It has offices in London and Manchester. 
Source: Elvis