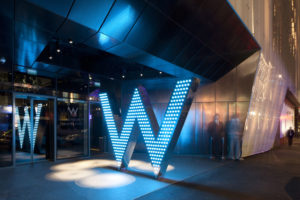 WickerWood, a leading luxury brand influence agency has been appointed by W London – Leicester Square as part of a pioneering effort to drive deeper engagement with London's movers and shakers; defying expectations and breaking the norms of traditional luxury.
The iconic 5* hotel located on Soho's Wardour Street and part of W Hotels Worldwide, known for shaking up the hotel scene with its disruptive lifestyle concept, made the appointment after a competitive five-way pitch replacing former agency W Communications.
The partnership will see WickerWood develop innovative media, digital and influence strategies to primarily connect the hotel with the Soho community and launch an exciting new Beverage & Food offering following a complete redesign of its bar and lounge spaces. All of which are set to be unveiled this autumn.
Designed to reflect the 24/7 energy of both the W brand and the British capital, the new concept will feature subtle, abstract references to London's fashion, music and design scenes and will add an exciting layer to the original hotel experience inspired by the dual personality of the British soul.
In response to the competitiveness of London's lifestyle sector, the remit will also see WickerWood work with the hotel's in-house team in creating original entertainment programming. This will sit alongside developing communications on W brand initiatives at a local level, such as the FUEL lifestyle concept which encompasses fitness, beauty, beverage & food respectively.
Shirley Leigh-Wood Oakes and Gabby Wickham, Co-Founders and Directors of WickerWood, said: "We are delighted to take on a project which will see the agency showcase its mastery in the luxury lifestyle arena as well as our unparalleled knowledge and understanding of consumer habits and trends in the London hospitality scene and more importantly in Soho. We hope to foster a local community of raving fans for the launch of the new B&F outlets as well as uniting global travellers and disruptors in the worlds of design, fashion, film, music and FUEL through a bespoke 360-degree integrated brand influence strategy."
Martijn Mulder, General Manager at W London – Leicester Square, said: "The W brand is constantly evolving, setting trends and breaking boundaries. As W London embarks on the most significant design project since opening in 2011, we required an agency with the expertise to exceed the desires of our demanding London customers. WickerWood's background with premium hospitality brands in London made them the right partner to help fulfil our new objectives of driving ongoing relevance for a Londoners; making W London a part of their lives across shared passion points."
Source: WickerWood