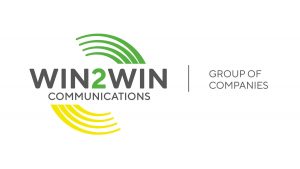 Integrated marketing communications agency Win2Win Communications announced that it created a communication holding with four core business units of the agency established as independent companies. Therefore, new players entered Public Relations, Event Marketing, Digital Marketing, and Media Monitoring and Analysis sectors. Every single one of these players has its own customer pool, portfolio of successful projects and well-coordinated team of professionals that enable them to lay claim to leadership from day one.
Managing Partner Margarita Sereda takes charge of Group of Companies. Second Managing Partner Ekaterina Pickersgill moves into the role of General Director of Win2Win PR Solutions. Maria Andrusova, Eugeniy Gartsevich and Alexey Dolotov take command of Win2Win Events, Win2Win Digital, and Win2Win Monitoring & Analytics. The directors, who earlier supervised their respective departments, have been with the agency since the day of its launch, are highly competent and have vast experience.
Transformation of Win2Win Communications into a communication holding lays a strong foundation for maintaining its growth momentum. The agency entered the market 5 years ago. While the industry itself in Russia suffered from stagnation, Win2Win Communications reported gross profit that was 5 times higher than back in 2014. Companies that are being established within the Group will tap into the agency's experience and philosophy to duplicate that success in their respective fields.
The foundation for that rapid growth was the agency's win-win approach, which means that for the company to grow it needs to develop the entire ecosystem – from staff and technology to customers and marketing communications culture in general. What this translates into in practice is that the agency can nurture and retain highly trained professionals, expand its customer pool, promptly adopt new solutions, thus gathering momentum and increasing income.
For instance, back when the agency was just planned, the focus was on human potential, and opportunities were created for professional and career growth of its employees. Consequently, Win2Win Communications started out with a strong team of professionals, and 80% of that original staff has never left. Employees see the company's 'no ceiling' policy in action – anyone can suggest an idea that will become a new service or area of business for the Group, and then assume a leading position in this new business.
By building long-term relationships with customers based on the win-win approach, Win2Win Communications continues expanding and diversifying its customer pool, thus ensuring its financial stability. 83% of all businesses that signed long-term agreements with Win2Win Communications in their first year of working together are now its loyal customers. In general, the agency provides its services to more than 25 corporations operating in 10 sectors – from TV and telecommunications to tourism and FMCG.
By transforming into a communication holding Win2Win Communications embarks on the journey of delivering more specialised services and improving its expertise in specific areas. Companies within the Group will be better positioned – as compared to when they were a part of the full-cycle agency – to fine tune their competitive advantages, thus strengthening their position in their respective sectors. Furthermore, companies will be free to share technology within the Group and easily team up to execute integrated marketing projects. All of the above lays the groundwork for a new breakthrough for the Group.
Margarita Sereda, Head of Win2Win Communications Group of Companies said: "When we entered the market we faced a new economic reality – unpredictable and complex. Therefore, we used things that were eternal as a foundation for our business, namely principles and values: trust, fair partner relationships, commitment to continuous growth. And it worked! As we announce our transformation into a communication holding, we keep to our long-term strategic schedule. We have created an effective and flexible structure and, more importantly, a team of professionals, which means that we are ready for further growth!"
Source: Win2Win Communications