"Trauma", the latest production of French TV channel 13th Street (13ème Rue), is the story of Adam, a hardened cop on the trail of a serial killer, who suffers from amnesia after an injury. On discovering a young, kidnapped woman hidden in his basement, he questions whether the killer he was tracking was none other than himself. The more time Adam spends under ground with the woman, the more he discovers.
Inspired by the series' storyline unravelling below ground, BETC came up with the creative idea of the first depth-contextualised billboard, allowing fans to discover the series by descending into the city's deepest metro stations.
In collaboration with the RATP (Autonomous Parisian Transportation Administration), BETC carefully picked the deepest DOOH billboards in Paris in 25 stations—for example, Abesses (36m), Chatelet (24m), Bastille (14m)—cross referencing them with those that have a strong 4G connection.
The billboards contain QR codes which allow you to watch the series' first episode before its release. Every metre below ground equals a free minute of the show—the deeper the metro, the more you can watch. To watch the full first episode, you can cumulate minutes by scanning QR codes from different billboards.
By launching a contextualised display campaign based on the depth of each billboard, BETC offers a new experience to thrill fans, seeing how far they will go in order to retrace Adam's story and discover the truth.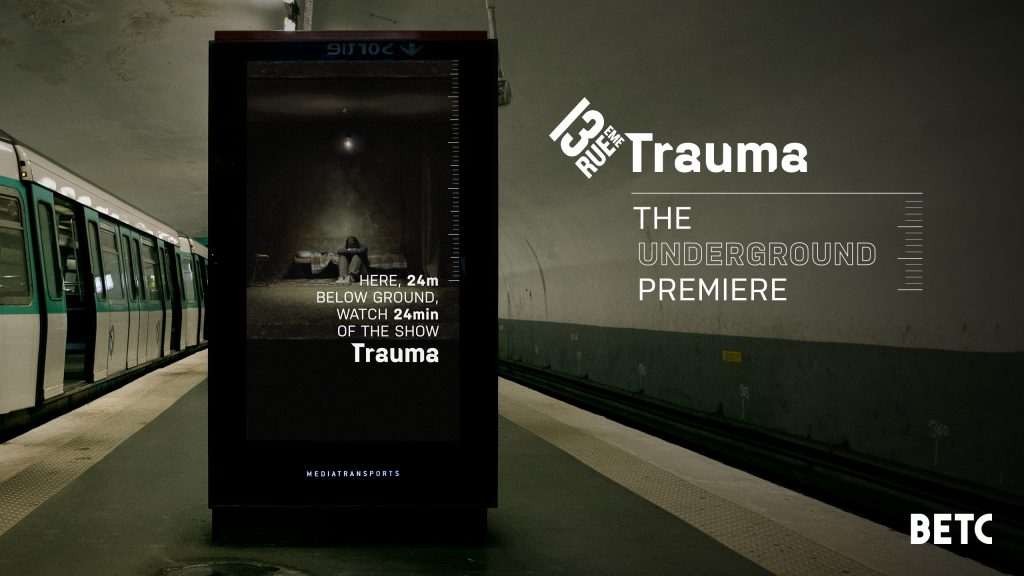 Source: BETC