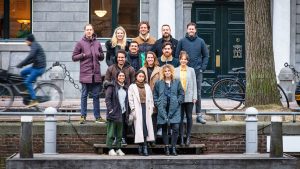 Creative agency 180 Kingsday announced that following a series of new business wins and growth on existing clients, they have expanded their team with 15 new hires, seven of which are for the creative department.
The hires reflect the agency's recent appointment as global UEFA Champions League partner for LAYS Pepsico and picking up global projects for SMINT as well as organic growth from existing clients such as Qatar Airways, DHL and the Flower Council of Holland.
Following the merger last year between 180 Amsterdam and Kingsday, the Amsterdam based agency is building out its team in every department. The fruits of the successful merger are seen in the high profile output for PlayStation, Replay Jeans, Qatar Airways, Bon Prix and EPICA winning work for Amstel and Flower Council of Holland.
The new hires hail from every corner of the world – including Bangladesh, Italy, Sweden, America, Venezuela, Spain, Australia, New Zealand and India.
These include Simone Di Laus from Publicis Milan – who had been behind the much talked about Diesel campaigns including Hate Couture.
Sander Volten CEO of 180 Kingsday says: "180 Thinking requires diverse opinions and perspectives coupled with a burning desire to make some healthy trouble. We're thrilled we've been able to attract this group of very talented, very ambitious troublemakers from around the world to our ever growing international team." 
New 180 Kingsday joiners are:
Creative
Simone Di Laus
Victor Moron
Jose Hernandez
Amber Steevensz
Esme Brinkman
Ben Goedegebuur
Kelsey Svensson
Account Management
Maddy Berry
Sann Mehta
Jenny Leung
Data Analytics
Rizka Soetjoko
Studio Design
Jamie Ward
Daniel Levitton
Sven Ijsselstein
Production
Ava Rijken
Source: 180 Kingsday