Mention Me's fourth annual report into customer advocacy and referral trends reveals the impact of Covid-19 on brand recommendations, the sectors that have best weathered the storm or even prospered, and the most important qualities for brand referrals. Trust has remained a core theme, with three quarters of respondents citing brands' responses to Covid as important.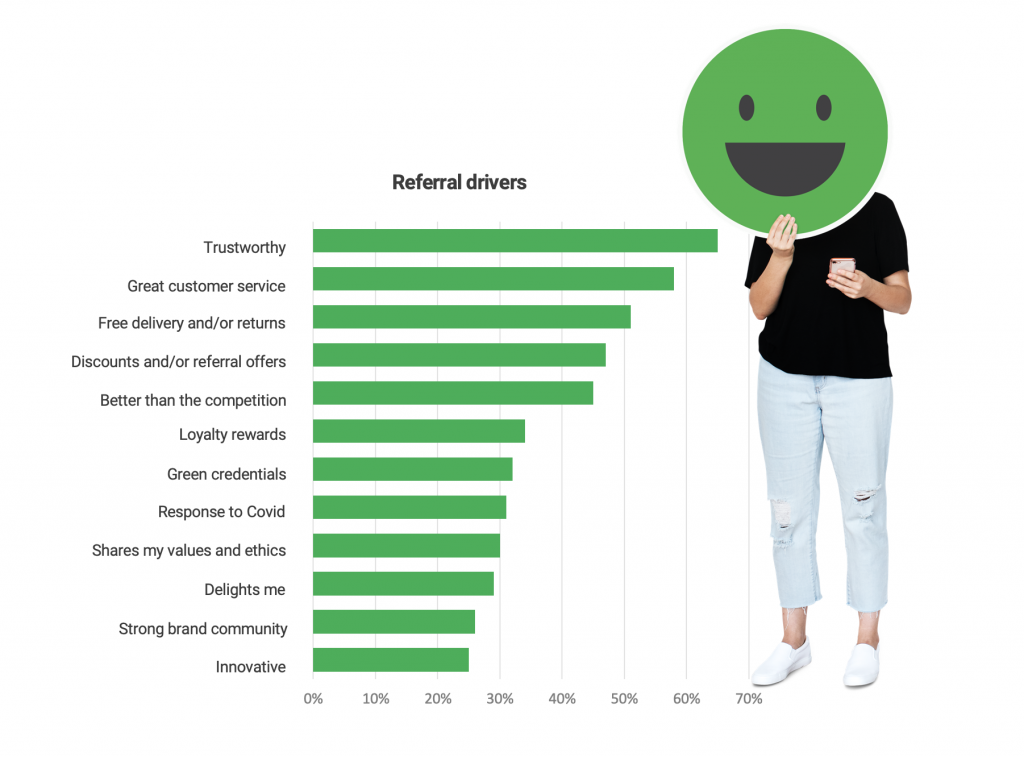 Despite the pandemic's hit on the high street, consumers are still recommending their favourite brands. More than a third of respondents have recommended a brand in the past month, rising to 82% over the past year. This is especially true for the sectors transforming our homes into places to live, work and play. Online orders and referrals for these businesses have soared in the numerous lockdowns.
For the fourth year, friends are the most trusted source of brand recommendations across demographics, cited by 27%, with women even more likely (7%) to trust a recommendation from their friend than partner. Online reviews came in as the third most trusted source, an increase of 23% since 2019, reflecting a growing reliance on the opinion of other consumers, rather than simply being influenced by advertising. Celebrity and blogger endorsements remain extremely low in value for all. Despite influencers taking a significant chunk of many marketing budgets, just 2.8% trust influencers' recommendations, and only 1% trust TikTokers'.
In these uncertain times, consumers want brands they can rely on. 65% of consumers questioned cited trustworthiness as the most important quality for brand referral. This is followed by great customer service with 58% and free delivery or returns with 51% (an increase of 11% from 2019). Two further brand qualities that experienced the biggest decline in value were a brand that 'surprises or delights me' falling 22% and 'being innovative', decreasing 17%.
This year's results also highlight a continued focus on the wider impact of our buying decisions. Consumers are increasingly aware of their environmental footprint and want to make ethical purchases they can be proud of. 32% consider green credentials very important when recommending brands.
The most referrable sectors across every demographic reflect the lifestyle changes brought on by the pandemic. Food and drink again topped the list (37%), not unexpectedly up 10% from 2019. Surprisingly, holidays and travel brand recommendations came out second with 26%, perhaps as consumers planned for the future and enjoyed local staycations.
Other insights include:
Subscription and technology brands are joint third most likely to be referred at 21%
Although fashion is still referrable with 18% of respondents, the sector has seen a drop this year of 8%
Home & garden (16%) and sporting goods (17%) have seen the biggest YoY increase in brand recommendations
Women are overall more likely to recommend brands than men, apart from in finance (32% more men), technology (32% more men) and sporting goods (25% more men)
37% rated loyalty programmes as one of the best ways a brand could encourage them to return
We also asked about the impact of Covid 19 on online buying behaviour in this annual survey. The brands improving people's home environments came out top. Groceries saw the biggest shift in buying behaviour, with 47% buying more online, and 11% for the first time.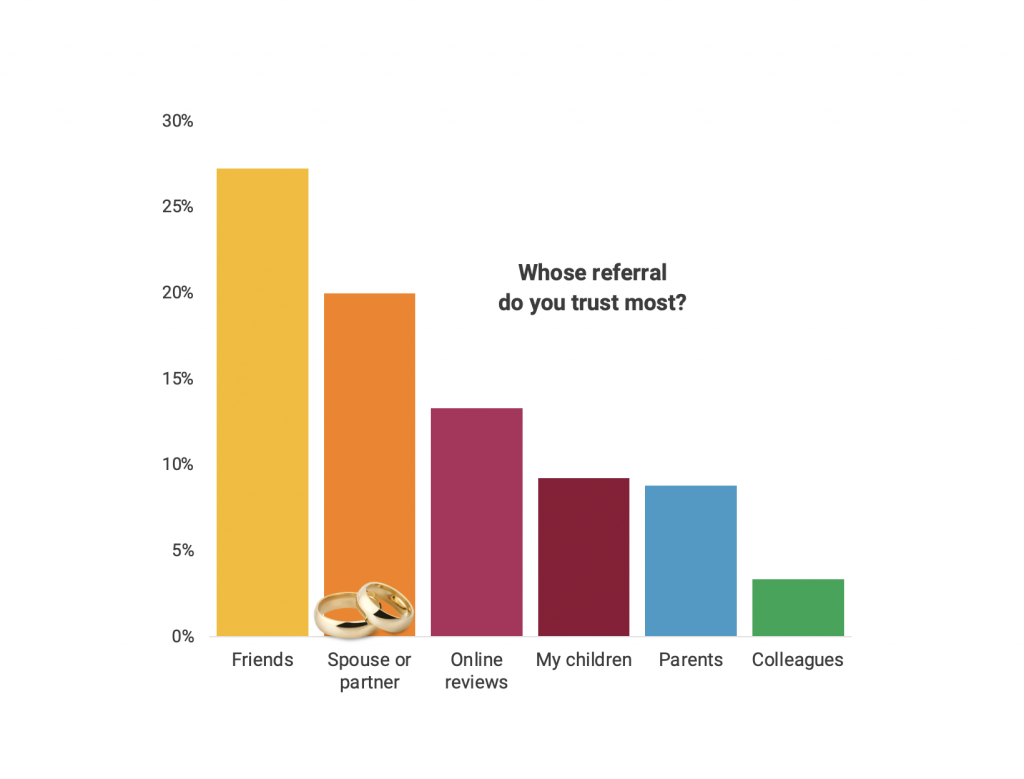 Other highlights:
43% are buying more gifts online (the second biggest increase on last year)
42% bought more fashion online, women leading this with 60% buying more beauty online than men, 60% more fashion, 32% more gifting and 24% more in homewares.
Gardening items saw 28% buy more online, and 9% buy online for the first time
Across all sectors, men were more likely to have bought online for the first time, in financial services at 77%, holidays and travel 71%, sport 57%, gardening items 46%
Andy Cockburn, CEO of Mention Me, comments, "The past year has highlighted the valuable, often untapped potential of existing customers. In times like these, consumers are even more actively telling loved ones about the businesses that can support them. Despite the challenges of the pandemic, many brands have rapidly grown via these word of mouth recommendations. This is particularly true for ethical brands that garner trust; those visibly living out their values and showing they care about the world beyond themselves".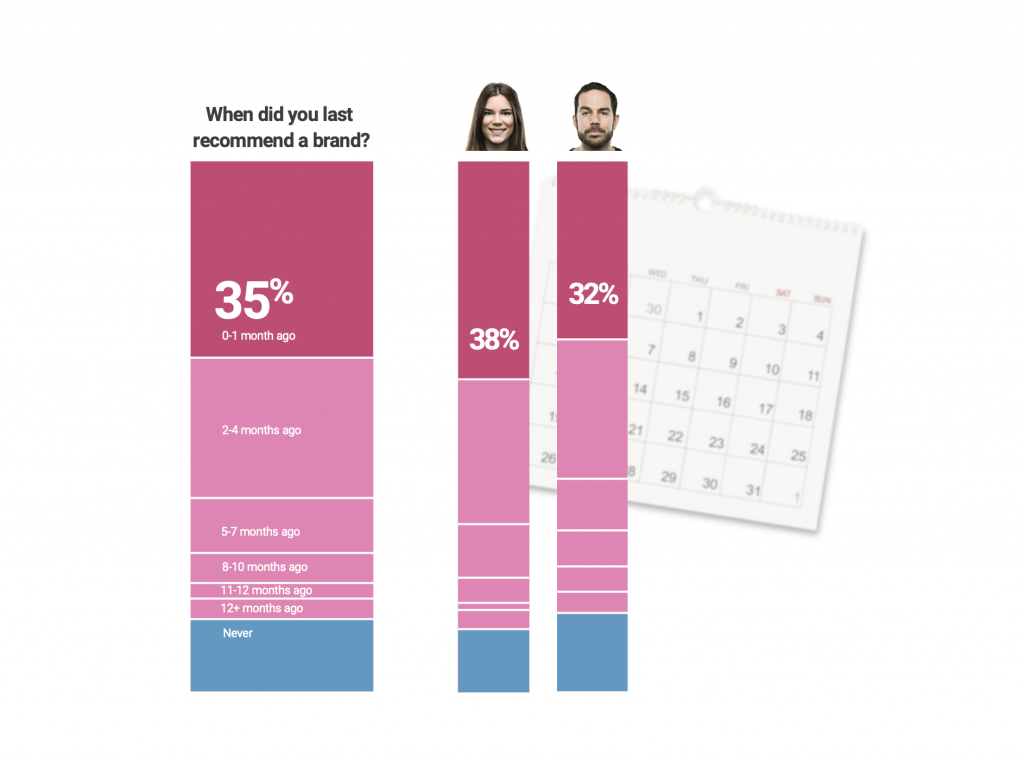 Mention Me partnered with One Poll for this survey, who questioned 2,000 UK consumers. The survey was completed November 2020.
Source: Mention Me