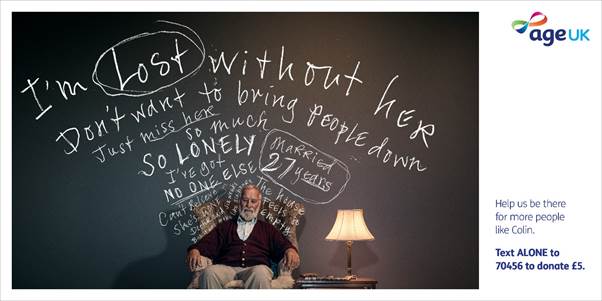 Charity Age UK, in tandem with creative agency Brave have launched a new campaign to support older people who have no one to turn to in a crisis. 
More than 2.5 million older people say they have no one to turn to for help and suppor, and at Christmas time these feelings can feel even more acute. For those who are feeling lonely, seeing other families and friends get together can be hard and for those who are struggling financially, physically or emotionally, the sense of celebration and excitement that comes with Christmas can feel alienating.  
Developed by creative agency Brave, the campaign is the latest in the highly successful evolution of the 'No-one should have no-one' campaign and will be launched on TV, as well as billboards in London and other key cities such as Manchester and Birmingham from December 2019.
The campaign aims to raise awareness of the challenges getting older can bring, such as coming to terms with a bereavement or becoming a carer for a loved one, and will call on the public to donate to help the Charity be there for everyone who needs them. Money raised will help to fund essential services, such as the free telephone Advice Line, which is open every day of the year – including Christmas day – and gives clear, practical guidance that makes sense of complicated situations.
New OOH visuals, featuring emotive and relatable stories inspired by the older people who come to Age UK for help, will run across the campaign this winter. A bespoke typography created by award-winning artist Alison Carmichael is used to illustrate the thoughts and emotions felt by older people when going through a crisis.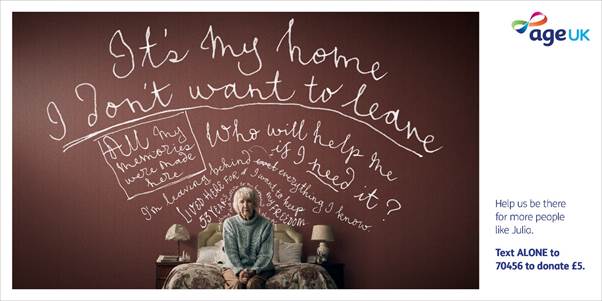 Kathi Hall, Head of Content Strategy and Brand at Age UK, said: "Our winter campaign is always so important, not only to raise awareness of those who will spend this Christmas all alone with their problems but also to generate much-needed funds for our work. Together with Alison and Brave, and the older people who have shared their stories with us, we hope that we've created something powerful that will help people understand just how tough later life can be when you have no one to turn to."
Dave Lawrence, Planning Partner, Brave said: "Christmas is traditionally a time for families and togetherness, but thousands of vulnerable, older people across the UK will find themselves on their own. We hope this campaign will encourage people to donate to this amazing cause and raise awareness that Age UK is there for people when they need it most."
For more information about Age UK's No one should have no one to turn to campaign or to donate visit www.ageuk.org.uk/noone.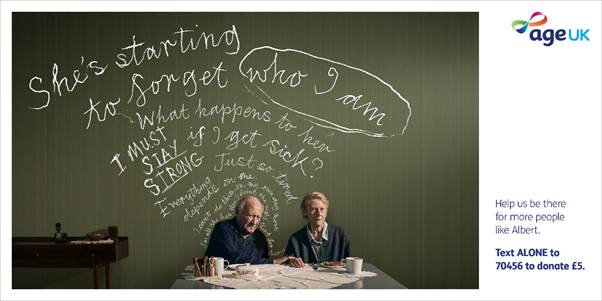 Source: Brave