With the help of creative agency M&C Saatchi, Barclays has today launched a four-week takeover of Westminster Tube Station, which will see advertising space gifted to Age UK, Family Action, Macmillan and Refuge – four charities which are also supported by donations from the bank's £100m Covid-19 Community Aid Package.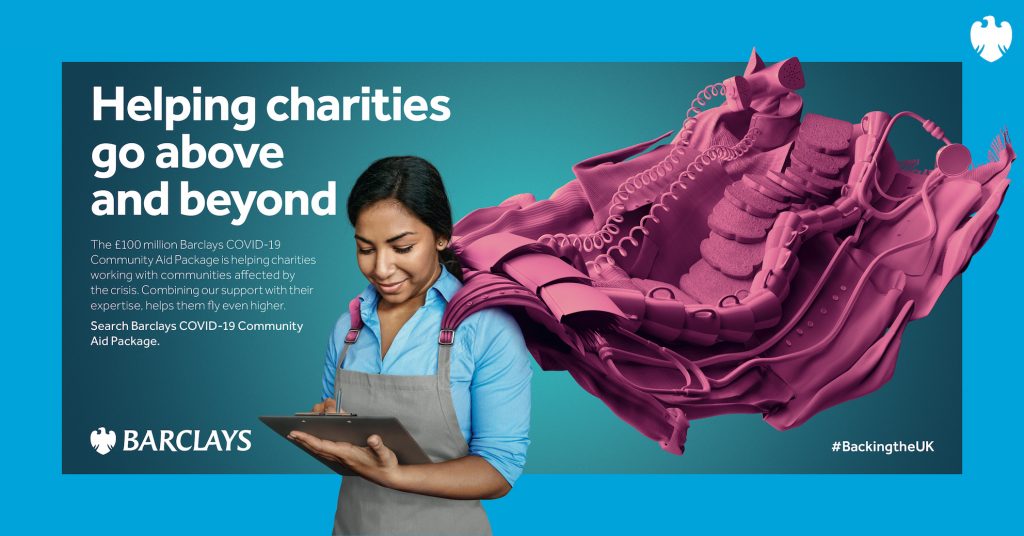 Adverts from the four charities will be displayed in the ticket halls and corridors of the Westminster Tube Station until 16 November, in the hope of driving donations and boosting exposure of the charities, particularly amongst the key opinion formers who frequent the station. M&C Saatchi developed the creative for the initiative. The key visual – a charity volunteer shown with a CGI cape made from objects that they work with – represents the heroic effort of the charity workers and volunteers who have been working tirelessly to support those worst-affected by the Covid-19 crisis.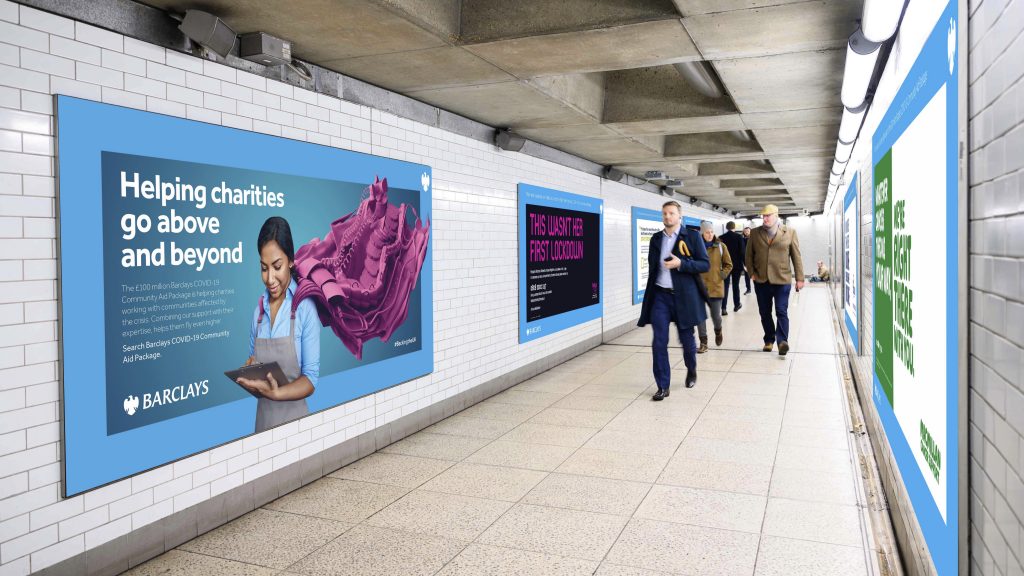 After originally being bought for a different campaign, the Westminster out-of-home space was donated to the four charities as part of a wider gifted media plan which M&C Saatchi is rolling out with Barclays across Q4. The campaign will see more charities receive gifted media on a national scale, across press and OOH channels.
Barclays announced its Covid-19 Community Aid Package of £100 million in April of this year. The scheme supports more than 100 charities working to support vulnerable people impacted by the pandemic, and aims to alleviate the associated social and economic hardship caused by the crisis.
Angus Maclay, Business Director, M&C Saatchi, said:"We're delighted to be supporting this worthwhile initiative. The campaign celebrates the heroic nature of all these charities and the work that they are doing to support vulnerable people who are disproportionately affected by the pandemic."
Barclays "Covid-19 Community Aid Package"
Credits
Creative agency: M&C Saatchi
Senior Creatives – Camila Gurgel and Ieva Paulina
Chief Creative Officer – Ben Golik
Post-production/CGI – Happy Finish
Source: M&C Saatchi