As a premium beer brand, what do you give your aviation partner for their 60th anniversary? Lufthansa's official beer partner, Warsteiner opted for something infinitely more memorable than your predictable diamonds.
Wanting to guarantee an anniversary-worthy experience, Warsteiner called on its trusted international advertising agency, Amsterdam Worldwide, whose most recent Hertha BSC campaign for Warsteiner had successfully impressed with its integrated design and delivery. To toast the occasion with Lufthansa's passengers, the agency designed a sleek limited-edition gold and black Warsteiner aluminium bottle and coordinating hospitality items, and developed a print ad for the airline's on-board magazine, as well as a customised film to run on their in-flight entertainment system.
For the design elements, Amsterdam Worldwide elegantly fused the two brands' identities to symbolise their partnership, and featured a modern spin on a classic symbol of aviation: the propeller. The aluminium bottle was designed so that an aerial view of it would show a set of seven propellers, representing the airline's founding year and each of its 10-year milestones since. The design concept was then extended to the refreshment pack, film and print ad with the strapline 'Wherever you go, we'll be there to refresh you'.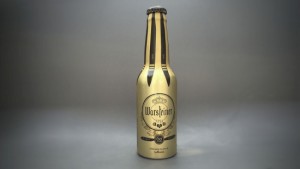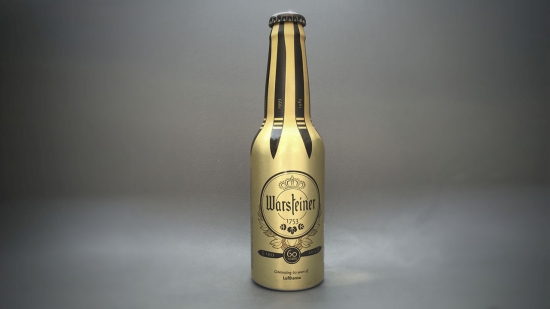 Daniel Peiron, Senior Art Director at Amsterdam Worldwide comments: "The line between design and advertising is blurring. This is no bad thing. The brief was to reflect the premium hospitality and distinctive attention to detail of both the Warsteiner and Lufthansa brands. Fusing the two identities came naturally to the bottle design and transferred to the print ad easily."
Agathe Wiedemair, Amsterdam Worldwide's Senior Account Manager for Warsteiner says: "Offering passengers exclusive products adds a special dimension to the travel experience, and customers have been actively engaging on social media to share the new in-flight bottles with their friends and followers. We're thrilled to see that the glass we've helped Warsteiner raise to toast Lufthansa has been raised even higher by Lufthansa's own passengers."