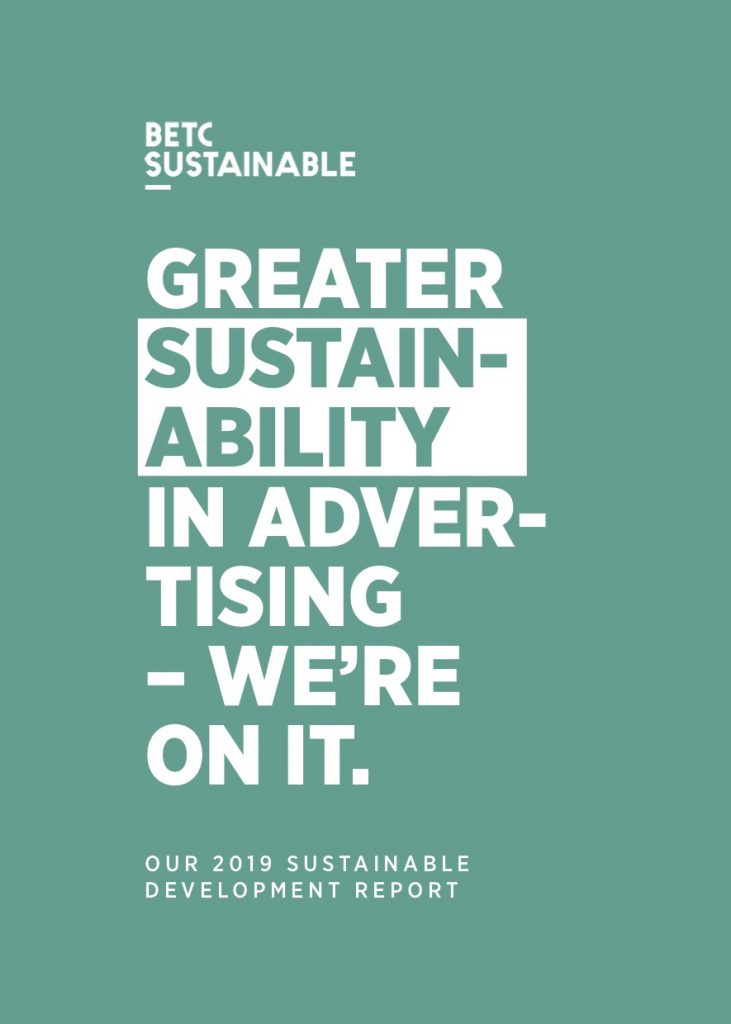 BETC releases its 2019 sustainable development report, citing new projects that confirm that responsible practice continues to be a significant part of BETC's culture and business model.
BETC is a CSR pioneer. Since 2008, it has been a signatory to the United Nations Global Compact (Advanced level). This framework structures BETC's approach to social responsibility and helps form its CRS strategy around four main areas: daily life at work, core business, commitments and culture.
To make these areas more sustainable, BETC has a team of three people exclusively dedicated to responsible operations. Whether it be engaging BETCiens (BETC employees) to work in a more sustainable way (soft mobility, recycling, promoting biodiversity) or working with the core-business on responsibility in our industry (message authenticity, eco-design, carbon offsetting for our products, CSR expertise), the CSR team works towards a more responsible advertising industry. The team instils a CSR culture among employees by mobilising them around projects with links to the local community, quality of work life, diversity and inclusion.
"Sustainable development is a priority for BETC. We know that companies will be judged on their ability to embrace this shift in the market but, beyond that, this commitment is necessary because it is unifying and meaningful. We are no longer simply seeking to control the negative impacts of our activities, we are passionate about maximising our positive impacts."
Mercedes Erra, Founder and President BETC Group.
An agency that cares about its impact
For BETC, it is important to continue deploying relevant CSR approaches within the company.
In 2018, BETC was rated Gold with a score of 70 out of 100 by the extra-financial rating tool EcoVadis. BETC also obtained the highest rating of the Active Agencies CSR label launched in 2018. It is one of the first agencies to benefit from the label and to obtain three stars (the highest level). BETC is proud of these awards and continues to invest in its sustainable development strategies, just as it has done from day one.
An agency that cares about its talent
BETC pays particular attention to the recruitment, training and career management of its employees including a support programme for its trainees (masterclass, workshops, conferences, BETC academy) and management training. BETC continues to implement its policies for professional integration of people with disabilities, support for parents, and for refugees, particularly with the Kodiko programme supporting refugees search for employment.
An agency that cares about its immediate environment
The agency's offices, Magasins généraux, fit into the creative and dynamic surroundings of Pantin. A space for work, production and creation, the offices have made it possible to build a future for the agency in terms of work opportunities, creation and events. Designed to adapt to the needs of its occupants while respecting the environment and biodiversity, Magasins généraux have areas that change and transform during the day (different and varied workstations, roof top gardens, the restaurant, canteen and café).
In 2018, 19 events were held at the Magasins généraux in order to promote access to culture for all: exhibitions, round tables, concerts and festivals, these public events welcomed all types of audiences.
Source: BETC