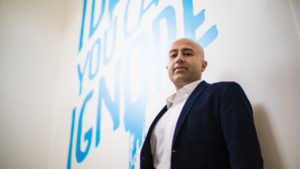 Full-service, integrated marketing agency bigdog announced Harman Randhawa has joined its management board as Associate Director.
Reporting into Managing Director, Ross Faulkner, he will be leading the client services team while also taking an active role on accounts, including kitchen appliance manufacturer NEFF and food and drink brand Princes. This will be alongside helping to shape the overall direction of the agency via his board role.
Randhawa joins bigdog after a ten-year stint at Leo Burnett, where he managed clients including the Department for Transport, Samsung, Co-op, Proctor & Gamble, Kellogg's, Amnesty International and Fiat. His Department for Transport work included numerous award-winning campaigns, alongside P&G work for brands such as Flash. Prior to this Randhawa spent time at Crayon Direct Advertising and A Vision Experiential.
Ross Faulkner, Managing Director at bigdog, comments: "We could tell straight away that Harman would be a great fit for us. He immediately understood who we are, both as an organisation and in terms of the work we produce for our clients. We're all delighted to welcome him to the team."
Harman Randhawa, Associate Director at bigdog, adds: "I'm really excited to get started. The quality of the work was a massive draw for me. Not just creatively, it's work that is always driven by insight and incredible strategic thinking. The agency is full of talented, funny people – and who wouldn't want to work at a place with a ten-foot high dog bone in the garden?"
Source: bigdog