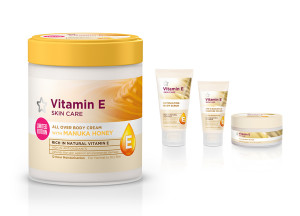 Having previously designed the full range of Vitamin E, Biles Inc. was briefed by Superdrug to design a limited edition body cream with Manuka honey.
Manuka honey is well known for its soothing and moisturising properties. When combined with Vitamin E, a powerful antioxidant, the result is a product that shields skin against environmental damage and premature ageing by combating the harmful effects of free radicals.
Biles Inc.'s challenge was to present the multitude of features and benefits of the product, whilst communicating the gentle and caring nature of the range.
The resulting design features a structured, modern text panel with clear hierarchy of communication alongside an abstract visual that captures the soothing qualities of the product. It is sold in a 475ml pot.
Creative Director Anthony Biles commented, "Our original work on Vitamin E has stood the test of time, seeing the brand grow to be one of Superdrug's most successful. This limited edition furthers the range's ambition to remain relevant in a very competitive market place."
The new product launches as part of Superdrug's new 2016 line in over 900 stores across the UK.