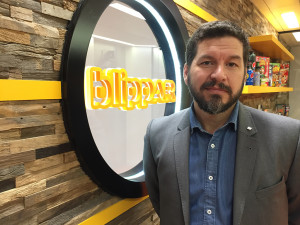 Blippar has hired the former Yahoo senior executive Glen Drury to the role of Chief Commercial Officer EMEA, as the visual search and augmented reality company repositions as a digital media platform.
Drury is the ex Regional Vice President for Northern Europe at Yahoo and former Vice President of Mobile Advertising at Opera Mediaworks.
Drury will be responsible for driving Blippar's repositioning as a digital media platform and growing the monetisation of its visual search proposition for the EMEA market, building on their successful position as the leading augmented reality platform. He will report into Andrew Graham, the Chief Operating Officer at Blippar.
Blippar is developing new forms of contextual and behavioural targeting for brands that will answer concerns about fraud, visibility and relevance and give brands the opportunity to delight consumers, rather than clutter their internet experience.
Drury, who is originally from the US, has worked in the digital industry in the UK and across Europe for the past fifteen years, building and rolling out digital businesses into new markets, and helping large organisations redefine and transform business units.
He was most recently Consulting VP Mobile at Ezakus, the predictive advertising solutions company, and has run his own consulting service, Kanuii.com, which he founded in 2009.
Drury was Vice President of Mobile Advertising International at Opera Mediaworks for two years, before moving to Ezakus in 2015.
In his role as Regional Vice President at Yahoo, between January 2006 and October 2007, he reorganised the Yahoo Group of companies in Northern Europe into one team. Prior to that, he headed up business operations at Kelkoo, the price comparison site formerly owned by Yahoo. He led the company's successful spin off from Yahoo and went on to become the Chief Executive Officer of Kelkoo in 2007.
Glen Drury said: "I have watched Blippar from a distance for a few years, and am excited to join at such a pivotal point in their history. VR and AR are the hot topics this year, and to me Augmented Reality one of the cleverest ways for brands to engage users with real world objects. Providing deep engagement and interaction in cutting edge ways is the natural state of being for Blippar."
Ambarish Mitra, Blippar Co-Founder and CEO, said: "With his wealth of experience, talent and strategic nouse, Glen is the perfect person to help us reposition and evolve as a digital media platform."