"Children are precious. Yet as a society we are failing them. No child in Ireland should experience poverty, neglect or not have a home. This work is about getting people to stop and think about these issues and support Barnardos in changing these children's lives."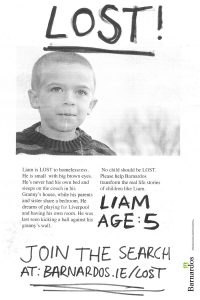 That's according to Laurence O'Byrne, Creative Director at award winning Dublin creative agency Boys and Girls describing their new campaign for Barnardos, the children's charity that transform children's lives through their services; support parents; and challenge society where it fails children.
The campaign launches Barnardos new organisation platform and goes live on 21st February 2018. It shines a light on the injustices that children in Ireland face everyday and that result in childhoods being lost – lost to Child Homelessness, Child Poverty and Child Neglect. A call to action in the advertising calls on people to take notice, take responsibility and "Join the search at Barnardos.ie/Lost."
The campaign includes an immersive 360 degree film that puts you in control of searching for a lost child, a 60 second TV commercial and a suite of 24 Lost posters for Outdoor and Social. The central idea behind the work is that there is nothing more terrifying than a child being lost. Even just for a moment. But in Ireland, Barnardos calculates that One in Seven children are being lost every day to issues like homelessness, poverty and neglect. And we as a society are not doing enough to help find them.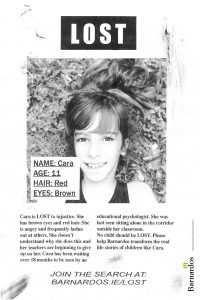 Barnardos CEO Fergus Finlay said: "For too long children have not been a priority politically, and childhood itself has not been valued as it should be – as the most important time of a person's life. Thanks to a generous legacy gift, Barnardos was in a position to engage an agency to work with us to create a campaign to grab people's attention and make people stop and think.  Boys and Girls have been fantastic partners during this process, in both their ambition to create a strong campaign and in their drive to deliver powerful assets that will not only grab the attention of the audience, but deliver real change."
"Everything we do is about creating great work that works," said Chris Upton, Business Director and co-founder at Boys and Girls, "And we are very grateful for this opportunity to partner with Barnardos to raise awareness of their great work, and most importantly to help bring about the changes needed so that all children in Ireland are valued."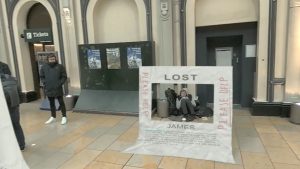 Rory Hamilton, Executive Creative Director and co-founder at Boys and Girls said: "Barnardos do important work, but people don't always take notice. With this campaign we wanted to force them to – by using technology to put them in the shoes of a parent who has lost a child. Making them act, and then showing them all the children lost to poverty, homelessness and neglect. We are really proud of this campaign because like Barnardos, we believe that no child should be lost."
Source: Boys and Girls