Using innovative technology to promote their first fully electric car was a no-brainer for Honda. To capture the newness and freshness of the launch – happening first in Sweden, followed by other European markets – whilst also emulating the experience traditionally associated with dealerships, the European brand commissioned integrated production studio Saddington Baynes to develop an online car configurator that employs real-time interaction via WebGL technology.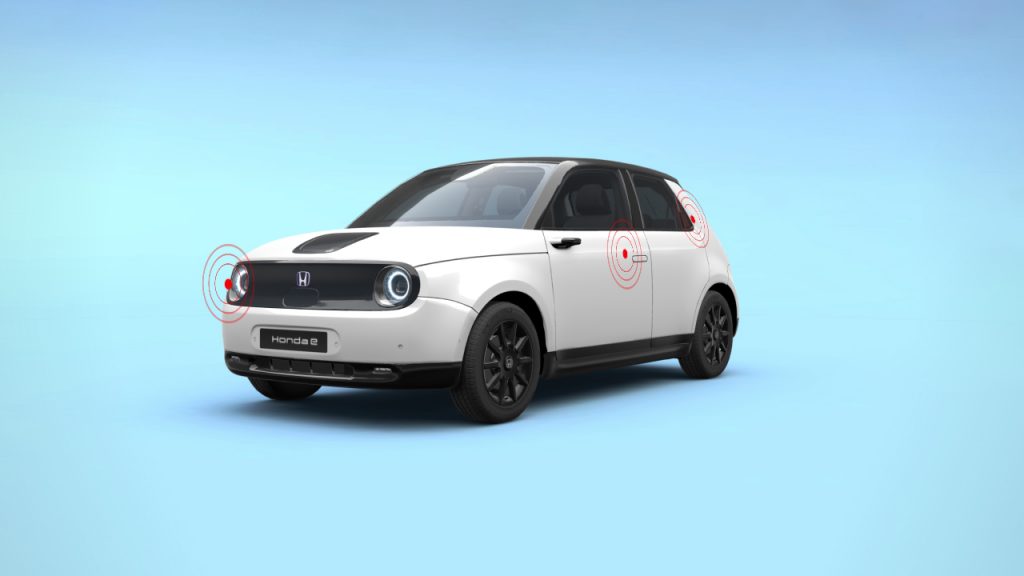 The brief
Honda wanted to engage with their audience on a different level, standing out from other manufacturers' electric offerings by presenting their first electric car, the Honda e, in all its glory. But how do you make sure that you are launching this new tech in a way that truly boosts engagement when you don't have the hardware infrastructure that exists inside dealerships?
Leveraging years of experience in automotive CGI production, Saddington Baynes pushed the boundaries by delivering one of the first WebGL automotive configurators in Europe, bringing the interactive experience normally reserved inside dealerships, to the web.
This was possible by utilising real-time technology. The engine common to video games made it possible for the assets to seamlessly integrate with their existing framework, representing the car in an exciting, memorable and, moreover, scalable way – if anything changes in the car, updating these assets would take almost no time, something that would be more time consuming with traditional 2D stills.
The tool delivered by Saddington Baynes engages and immerses Honda's audience at every level through the application of gaming technology and interactivity. But there are also advantages from a production perspective: this WebGL configurator speeds up in-house production, facilitating volume asset creation and streamlining the whole process.
The key challenge was to deliver the best performance and speed whilst preserving visual quality, allowing for the fact that it needed to be available across a huge range of both mobile and desktop devices, meaning the experience needed to work irrespectively of the consumer's device, hardware, display mechanism, and operating system.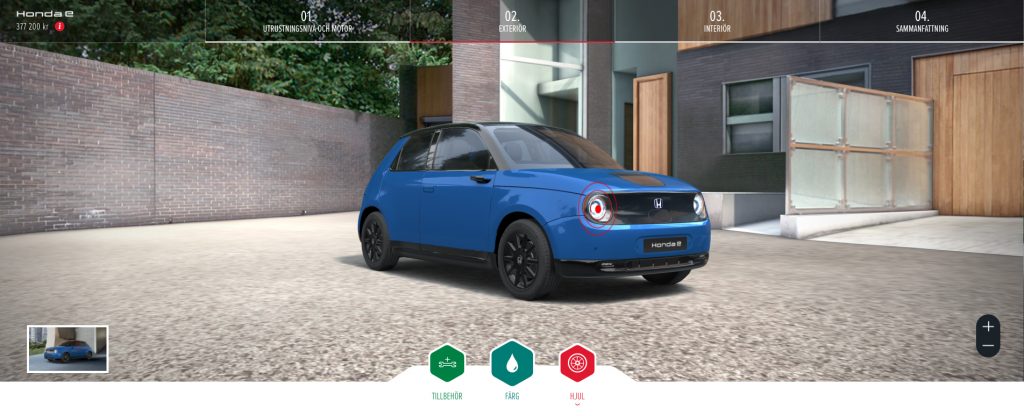 Enhanced interactivity
Real-time technology allows users to see every car option in every permutation. In addition to all the standard interactivity, such as changes to paint colours or wheel types, the customer can see the car from almost any viewpoint, choosing between three distinct environments.
"Users can swap out environments as well as the car, see it in at almost any angle and get a better feel for the qualities of the paint and the materials – how it looks when you open the doors, or navigate through its computer system, for instance" explains Chris Christodoulou, Saddington Baynes' CEO. "This is only possible with real-time technology. There's no compositing required, it's all rendered on the fly directly out of WebGL. Standard configurators normally require thousands of images to be rendered which then have to go through a compositing pipeline, which gives the user every available option but with a limited number of views and angles", he adds.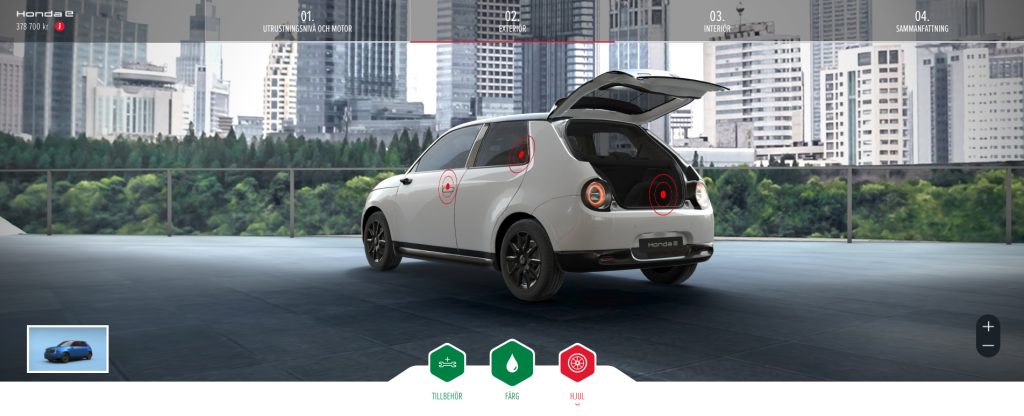 Personalisation and user experience
Personalisation is at the heart of this WebGL configurator, an online platform language that instantly enables content to be served without the need for specific plugins, downloads or huge servers and, without the requirement to render hundreds of images to be streamed live to a website. In that sense, the brand doesn't have to worry about paying for huge amounts of hardware time based on how many users are simultaneously visiting the website. From a user experience perspective, this also implicates that it delivers the best possible visual quality to satisfy all devices and browsers.
You can also open the car doors, the boot, switch lights on-and-off, all while zooming in and spinning around your viewpoint – replicating movements and actions you'd get as a character in a game.
Saddington Baynes' Creative Director, Andy White, explains: "It's all about making the experience more engaging and encouraging customers to spend more time exploring the car. Serving additional information about specific parts of the car they have selected through clickable 'hotspots' allowed us to showcase this new, groundbreaking technology from Honda in a memorable, educational way."
Source: Saddington Baynes