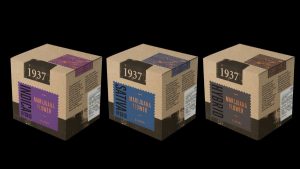 Colangelo, has been named by New York City-based Vireo Health International, a leading science-focused, multi-state cannabis company, to develop the brand platform to launch their first expansion into the recreational cannabis space with 1937. Billings for the assignment were not disclosed.
Colangelo has been tapped as the lead strategic agency that is driving all activity on the new brand. They started by developing the brand positioning, brand world and communications platform along with supporting B2B and B2C executions including digital, social, and print as well as website development and selling tools. New work from Colangelo is expected to break in selected markets throughout the year.
1937 is a premium cannabis brand named after the Marihuana Tax Act of 1937, which symbolized the start of prohibition, as we have known it. As state after state continues to overturn prohibition, 1937 signifies our right to reclaim cannabis and to stand up for wellness, social justice and equality for all, according to Vireo's Vice President of Sales and Marketing, Jennie Leuzarder.
Leuzarder said: "By understanding the significance and social impact of cannabis in today's culture, Colangelo was able to develop a platform that builds a unique brand identity for 1937 that not only elevates the experience but the conversations around recreational cannabis." 
Source: Colangelo