Italian denim brand Replay's latest denim innovation story launched with an eye-catching music video-style film and retail campaign. The work mixes live action and anime, starring Emily Ratajkowski and Neymar Jr. battling it out against the 'stiff jeans zombies'.
The campaign, the latest in a series featuring the Hyper range of stretchy denim from the creative agency 180 Kingsday, based in Amsterdam, takes the viewer on a rollercoaster ride into a new dimension with its new Hyperflex+ range – the first fully flexible 3D super denim.
The campaign is the next chapter in a project that is as much focused on entertainment as it is on traditional marketing. Shot beneath the iconic football stadium Stade De France in Paris, the film features Brazilian superstar footballer and style icon Neymar Jr. and model and actress Emily Ratajkowski in a post-apocalyptic future world where uptight 'stiff jeans zombies' rule the streets.
The film mixes live action with animation, taking inspiration from graphic novels, anime and manga. It sees Neymar Jr. and Emily flex their kung-fu skills in their Replay Hyperflex+ jeans, as they battle the stiff jeans zombies and bring style back to the streets.
Replay's new Hyperflex+ collection is once again leading the way in denim innovation. With enhanced 100% elasticity, super recovery and superior comfort, Replay Hyperflex+ is the super-denim that offers complete freedom of movement. Made from an innovative mix of special fibers, it goes a step further, providing a three-dimensional flexibility in the threads running vertical, horizontal as well as oblique.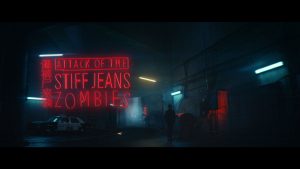 Moreover Replay Hyperflex+ stands the test of time thanks to the 'recovery power' feature and has a superior feel to the touch.
The Hyperflex+ jeans will be available on retail and wholesale channels, as well as online from October 2018. The in-store launch will be supported by a major communication campaign worldwide on outdoor, print, digital and social media.
Source: 180 Kingsday