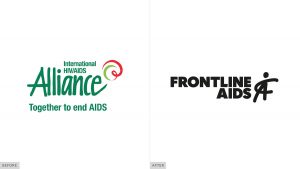 Frontline AIDS partnered with strategic brand consultancy Brandpie to develop a new name, purpose and brand that aligns the INGO around a core idea – their commitment to finding innovative ways to solve the evolving AIDS epidemic.
The brand is designed to position Frontline AIDS at the forefront of the renewed effort to end the global HIV epidemic once and for all. Brandpie's purpose-led approach enabled Frontline AIDS to stay true to its roots and identify a new focus on innovation and activism. 
Part of a wider aim to put the epidemic back onto governments' agendas across the globe, boosting funding, social change and other policy responses to the disease, Frontline AIDS wanted to use the rebrand to build on its 25 years of heritage as an INGO, awaken its latent activist roots and amplify the voices of those most marginalised and affected by HIV.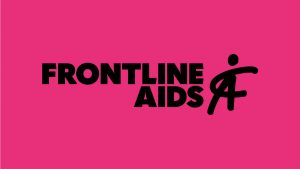 The charity is redefining its strategy to be more effective in addressing the epidemic internationally, alongside influencing positive social change through a human rights framework – with Brandpie involved in working with the leadership team to align their purpose and brand to their strategic approach and then ensuring the brand was designed to reflect this. 
The new name, Frontline AIDS, recognises the critical need to be active on the frontlines, wherever they are, geographically, financially, socially, to renew the response and drive the change required to end the epidemic.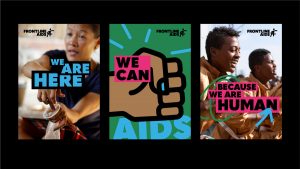 The new brand is designed to draw attention and stimulate a renewed focus on finding innovative approaches, to insist that there's no ignoring AIDS, or the work of Frontline AIDS. Brandpie drew from the energy of campaigning and protest when the first wave of AIDS activism was at its loudest, taking inspiration from signs and messages seen on placards at the time.
Christine Stegling, executive director of Frontline AIDS, said, "After three decades on the frontlines of political, social and scientific change, the AIDS movement has achieved more than many of us ever dreamt was possible. Now is the time to be even more bold and courageous, ensuring we are active on the frontlines of the epidemic, wherever they are, to help secure a future free from AIDS for everyone, everywhere. Our new name and identity will play a critical role in helping us to ensure our voice is loud, clear and urgent as we seek to end the epidemic forever."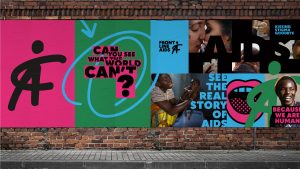 Nick Ranger, Managing Partner – Consulting at Brandpie, said, "With Frontline AIDS we have captured the purpose, courage and energy of the amazing people who are dedicated to finding new and innovative ways to end AIDS. For us, this was so much more than a brand strategy project – it was a revitalising an INGO with a real cause. For Frontline AIDS this has meant a dynamic, powerful, bold and active new purpose and brand which proudly reclaims their position as the global rights-based champion."
Source: Brandpie