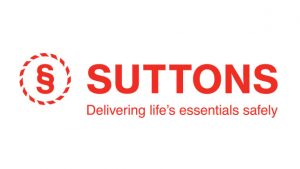 Global logistics supplier Suttons Group has updated its brand identity.
The new brand is an evolution of the old familiar gold laurel which has been updated with the chevrons replacing the wreath. The double-S is now modern, and the font is a clean and bold sans-serif.
The new branding is being applied to all Suttons current assets as well as all the new vehicles and isotanks being bought in the current £25m investment programme.
The purpose of the brand update is to support the communication of the company's vision.
John Sutton, CEO of Suttons Group, explained: "As a major logistics supplier to the chemicals industry, Suttons recognises that it needs to provide a service which supports the expectations of the industry. Although our strategy, investment plan and people development support this, we felt that the brand identity did not. It has been 30 years since we last looked at our brand. Although we are rightly proud of our heritage and are proud to have our name 'over the door', we recognised that the brand appeared to be all about tradition and did not speak to the future. So we have updated the brand but kept it a familiar evolution of the old brand. Now, when our customers look at it, we hope that they will feel it portrays the right things about our strategy and vision, which is to use advanced information technology and assets to provide world class service levels to our customers globally.
"It reflects our passion for safety, the fact that we can be trusted to deliver on what we say and our progressive view of the industry. We have a 'Suttons Way', the right way of doing things wherever our customers interact with us and we want a brand that those customers recognise instantly and that reminds them of what they get from us," continued John.
Source: Suttons Group